United Nations– India has decried the "undemocratic systems" that block developing countries from participating in international decision-making, leading to the perpetuation of the global development divide that can be traced to colonialism's legacy.
"The global development divide of today can trace its origins in an array of historical injustices that have somehow never completely disappeared from the equation," Ajit Kumar, India's Permanent Representative to the UN in Geneva, said Monday. "They are evident today in the persisting undemocratic systems of international governance where effective participation of developing countries in international decision-making is paved with all kinds of obstacles."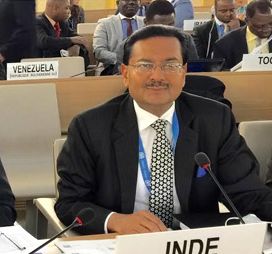 Speaking in Geneva at a meeting of the Human Rights Council's working group on Right to Development, he said India's repeated calls for promoting "the right to development at the international level have only yielded disappointment and resistance".
If human needs are not met, it "becomes nearly impossible" to guarantee human rights for all, he said. "Any lasting progress towards fulfilling the right to development require equitable economic relations and a favourable economic environment at the international level, apart from the national level policies."
The 30th anniversary of the Declaration of the Right to Development, which was adopted by the UN General Assembly on December 4, 1986, and the adoption last year of the 2030 Agenda for Sustainable Development should "inject fresh vigor into an idea which appears to be falling off the global radar," Kumar said. "We will need strong political will and genuine commitment of the international community to make the right to development a working reality."
The rapporteur for the right to development, Zamir Akram of Pakistan, said in his report to the working group that there were "fundamental obstacles to the right to development, such as poverty, conflict, discrimination, inequality, injustice, (and) denial of self-determination".¿
"Ironically, the implementation of the right to development will itself also make a significant contribution to overcoming these obstacles," he added.
Dealing with differences between nations over whether the right to development should be an individual or a collective right, he said that "as in the case of all human rights, (it) shall be centered on the individual and promoted at the national level".
Akram added that "since there are different levels of development", there was a need for regional cooperation, international assistance and contributions by development agencies.