By Hardev Sanotra

Las Vegas–Michael Dell announced at the casino capital of the world that the biggest merger in tech history will be called Dell Technologies.
"It has a nice sound to it," the chairman and CEO of Dell, which last year announced the $70 billion merger with EMC, at the Venetian Convention Center where he was giving the keynote address at the annual EMC World Conference.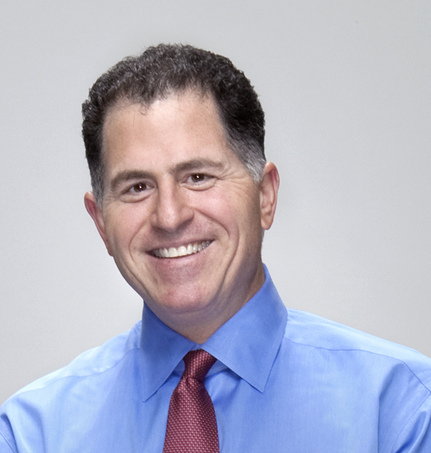 "The brand equity of Dell PC is irreplaceable," he said adding that he was partial to the family name. Dell Technologies will comprise Dell, EMC — the leading global computing storage provider, VMware, Pivotal, Secureworks, RSA and Virtustream.
The combined enterprise business, though, would go by the name of Dell-EMC, he announced. The merger is awaiting regulatory approval from the US authorities as well as shareholder greenlight.
Taking a dig at rival HP, Dell said that his competitor was trying to grow by downsizing.
"You cannot do that. But HP is trying to grow by investing less in R&D and software, all the while losing share to Dell," he said adding that his company was doing just the opposite.
"We are investing in speed, agility and innovation and creating the essential infrastructure for the next industrial revolution," the tech celebrity said, pointing out that they were just one day short of the 32nd birthday of his company.
He said when he started out, he believed that IT was going to be force for change. He said it had democratised information, help cut poverty by half globally and a huge global middle class had emerged in different parts of the world because of it. "I am more energised and optimistic today."
He said the combined company, Dell and EMC, would stand at the centre of innovation and next big growth in IT. "Today, we stand at the centre of human progress and there is no other place I'd rather be," Dell concluded.
Joe Tucci, 69, chairman and CEO of EMC, who tried out his balancing act on a "hover board" because he was dissuaded from doing so "because of my age," also announced that he was stepping down from the position. He got a prolonged standing ovation from the EMC and Dell employees who came to witness announcements of their merger.
Tucci said that "something great and something truly special" would emerge out of the two giants coming together. Saying that everyone had to be prepared for the coming digital revolution, which would "dwarf the industrial revolution" in terms of innovation and change.
More than 10,000 visitors, including vendors, employees and media are expected to come for the EMC Word, which started its annual expo and conference in 2001. (IANS)