New Delhi–Commerce Minister Nirmala Sitharaman on Tuesday launched the portal DashBoard with EXIM Analytics developed by Directorate General of Commercial Intelligence and Statistics for disseminating information regarding foreign trade.
"The user-friendly EXIM Analytics dashboard enables analysis of the country's trade information and provides analysis of export-import data by time period, destinations or countries of origin, and ports," Sitharaman told reporters here.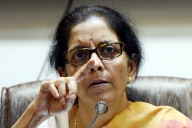 The data for analysis, including of the trade balance, is presented as a month's aggregate at levels like of country, region, commodity and port. Presently monthly data from April 2014 till January 2016 has been provided, which will be updated progressively.
India's merchandise exports fell for the 16th consecutive month in March owing to depressed global demand, recording a decline of 5.5 percent during the month, compared to 5.6 percent in February.
Meanwhile, in a written reply in the Lok Sabha on Monday, Sitharaman said the government has launched two dashboards to monitor the progress in its 'Make in India' initiative, and to rank states on real-time basis based on ease of doing business.
The Make in India Dashboard will allow the ministries concerned to update progress made on short-term and medium-term targets, facilitate timely delivery of identified action points and facilitate monitoring and identification of any delays in implementation.
The Ease of Doing Business Dashboard will help states report progress made by them on their State Level Business Reforms Action Plan, the minister said. (IANS)