Mumbai–The global demand for gold touched a record 1,290 tonnes in the first quarter of 2016, a 21 percent increase over the same period last year, making it the second largest quarter on record, the World Gold Council said here on Thursday.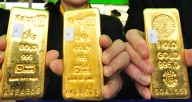 The overall gold demand increased by 21 percent to 1,290 tonnes in Q1 2016, up from 1,070 tonnes in Q1 2015.
Releasing its Gold Demand Trends Report, WGC said the increase was driven by huge inflows into exchange traded funds (ETFs) fuelled by investor concerns regarding economic fragility and an uncertain financial landscape.
However, the global demand for jewellery nosedived by 19 percent owing to higher prices, strikes in India and a softening of the Chinese economy, leading to delayed decision making by consumers on making purchases, WGC said.
Compared to 26 tonnes last quarter (Q1 2015), inflows into ETFs totalled 364 tonnes in Q1 2016 — the highest level since Q1 2009, as gold found favour as a risk diversifier due to the negative interest rate environment in Europe and Japan, uncertainties over the Chinese economy, anticipation of slower interest rate rises in the US and the turmoil in global stock markets.
The total bars and coins demand was 254 tonnes, slightly higher than Q1 2015, with central banks remaining the strongest buyers, buying 109 tonnes during the period, slightly lower than 112 tonnes during the same period last year.
"This represents the 21st consecutive quarter that central banks have been net purchases of gold as they continue to diversity away from the US Dollar," the WGC Report said.
Weakness in price sensitive markets was offset by strength elsewhere with five percent growth in China (62 tonnes) and strong demand in US and UK which grew by 55 percent and 61 percent respectively.
The investment demand was 618 tonnes, up 122 percent from 278 tonnes in Q1 2015, sparking a rally in gold prices which appreciated by 17 percent in Dollar terms during the quarter.
The same strong investment performance did not reflect in the jewellery sector with demand levels going down both in India and China. Demand for gold jewellery fell from 597 tonnes in Q1 2015 to 482 tonnes in Q1 2016.
While both countries started on a slow note this year due to consumer uncertainty and rising gold prices, the situation was greatly exacerbated by the 42-day long industrial action in India, said Alistair Hewitt, Head, WGC's Market Intelligence.
Hewitt anticipated that the ongoing market uncertainty and unconventional monetary policies would continue to support both investment and central bank demands, and combined with an expected recovery in India, gold demand would remain healthy during 2016. (IANS)