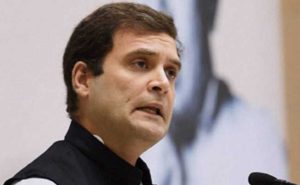 New Delhi–Congress vice president Rahul Gandhi on Saturday hit out at Prime Minister Narendra Modi over RBI Governor Raghuram Rajan decision to forego a second term, saying the PM has no need for such experts.
"Prime Minister Narendra Modi knows everything. He has no need for experts like Raghuram Rajan," Gandhi tweeted.
The Congress leader also hailed contributions of Rajan and said people like him add to the country's glory.
"Thank you Dr. Rajan for steering the economy in difficult times. People like you make India great," he added.
Ending months of suspense, Reserve Bank of India (RBI) Governor Rajan formally told his colleagues on Saturday that he is not keen on a second term at the helm of the country's central bank and will return to academia when his tenure ends in September.