New Delhi–As Reserve Bank of India (RBI) Governor Raghuram Rajan on Saturday made it official that he is not keen on a second term, India Inc voiced its concern while the government said his successor will be announced soon.
"Have no doubts that he will continue to add value to the country. He deserves more dignity than what he was treated with," Infosys co-founder N.R.Narayana Murthy told a private news channel.
Murthy, was in fact batting for not one but two more terms for Rajan.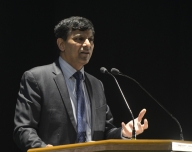 However, the government, acknowledging Rajan's decision, said his successor will be announced soon.
"Raghuram Rajan has announced his intention to go back to academics at the end of his current assignment. The government appreciates the good work done by him and respects his decision. A decision on his successor would be announced shortly," Finance Minister Arun Jaitley said in his tweet.
But the opposition Congress, who had appointed Rajan as the governor in 2013 when it headed the UPA government, expressed its disapproval of the decision.
"Disappointed and profoundly saddened by Raghuram Rajan's decision to leave RBI post completion of his term," senior Congress leader and former Finance Minister P. Chidambaram said.
He, however, mentioned that this decision of Rajan's did not surprise him.
Rajan on Saturday formally told his colleagues that he is not keen on a second term at the helm of the country's central bank and would return to academia when his tenure ends in September. He went on to allude that while much was accomplished, a part of that task remained a work in progress.
But Rajan's critics like BJP leader Subramanian Swamy who was particularly harsh on him and had earlier asked Prime Minister Narendra Modi to let him go, remained unrelenting.
"Raghuram Rajan was an employee of the government of India. We don't select employees on the basis of popular vote — and, too, of industrialists," Swamy said.
But industrialists hailed Rajan and his work.
"This is clearly Raghuram Rajan's choice. He has always been very keen on academia and having said this, I do hope that we will have a leadership in RBI soon which would do the very outstanding work Raghuram Rajan had started. We now require a very pivotal kind of leadership from the central bank in order to work with the government," said Kiran Mazumdar Shaw, Chairperson, Biocon.
"If he would have continued, it would have been a great deal of comfort not only to India but to outside world as well," she added.
Before Rajan shot to global fame with his prediction of a looming global financial crisis way back in 2005, he had to face ridicule from such luminaries as then Federal Reserve chief Alan Greenspan and Nobel laureate Paul Krugman.
He had the last laugh, so to say, when that became a reality.
"He was one of the visionaries. He saw the crisis in 2008 happen, long before other people did. He has had a deep insight into how the global economy works. I'm particularly excited to see what he will do next. The economy is strong, things will go on. But he has surely done a remarkable job," said Vishal Sikka, CEO, Infosys.
According to Arundhati Bhattacharya, Chairman, State Bank of India (SBI), Governor Rajan increased the credibility of the central bank.
"Dr. Rajan is a person of very high caliber, who has built ably on the reputation of our Central Bank and given it a very large measure of credibility," Bhattacharya said in a statement.
Business chamber Assocham termed it unfortunate that Rajan is "leaving the RBI at a time when a tumultuous global economy poses several risks to India along with the banks grappling with an unprecedented challenge of mounting non-performing assets".
"While it is the institutions which are paramount, individuals provide leadership and a quality leadership makes all the difference. That is what Dr Rajan has done to the RBI. Over the last three years, he provided a new dimension to entire approach of the central bank with a global perspective, yet keeping intact, the unique advantages of the Indian economy and eco system," said Assocham Secretary General D.S. Rawat, hoping Rajan is persuaded to reconsider his decision.
Stock and currency market observers said that the news will subdue investors' sentiments.
"The RBI governor's exit news could prompt investors to recheck their bullish convictions," Anand James, Chief Market Strategist, Geojit BNP Paribas Financial Services, told IANS. (IANS)