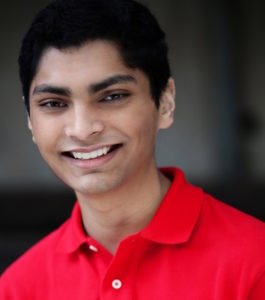 WALTHAM, MA—At the age of only 17, Deep Patel has become the world's youngest most powerful networker, according to Forbes Contributor Laura K. Inamedinova,  who covers all related to startups and unique people behind them.
In a recent article for Forbes.com, Inamedinova says that from former CIA director General David Petraeus to distinguished Harvard professors and Hollywood directors, Patel has managed to connect with some of the world's most influential people.
Internationally well know people, like Mark Cuban, Arianna Huffington, Charlie Sheen and Ashton Kutcher, have crossed paths with this young influencer, says Inamedinova.
Patel recently released his first book, A Paperboy's Fable, in which he interviewed 15 industry luminaries. He is now at work on his second book, The Gray Veil, according to Inamedinova.
"I sat down with Patel, and he shared some of the tactics he employed to go from a normal high school student to the leader of a growing network of powerful influencers," wrote Inamedinova.
Here are his top networking tips:
Have the confidence to reach out.
"Don't be intimidated by the fear of failure when networking with someone. Even if you aren't well-versed in the art of networking, if you don't seem to connect well, it's not the end of the world. Sometimes it just takes time," Patel told Inamedinova.
Add value.
"By imparting value up front, you're setting the stage for a healthy, mutually beneficial relationship moving forward," said Patel as quoted by Inamedinova.
Ask for a strategic connection.
"If you manage to land a third-party endorsement, it can give you a powerful lead," Patel says. "It not only makes you stand out, but lends you credibility."
Create a diverse network of givers.
" Every time you add a person who's in your industry, you're not expanding your network as you could be, because you all probably know the same people."
Stay in contact.
"After you've had the opportunity to talk to a powerful person, you might feel like you're being a nuisance by following up. Don't be shy about doing so, however. Follow up within 24 hours by sending a personal LinkedIn invite, and getting on the person's calendar if that seems appropriate. The world is competing for the attention of the most successful people. If you want to meet them—and break through and build a lasting connection—the best strategy is to make them come to you by identifying what's uniquely interesting about you," Patel told Inamedinova.
Patel is a young writer and entrepreneur. He is the author of A Paperboy's Fable: The 11 Principles of Success. In the book, he interviewed 15 industry luminaries including professors, entrepreneurs, CEO's and General David Petraeus.
In addition, Patel has served as script editor and creative consultant for the comedy She Wants Me (2012), produced by Charlie Sheen. He has also been featured in Forbes, The Huffington Post, Entrepreneur Magazine and Elite Daily.  Patel is currently finishing up his second book, The Gray Veil, according to his website.