By Ruwa Shah
Srinagar–Thousands of tourists who were caught up in the turmoil in the Kashmir Valley have left, dealing huge blows to the tourism industry. But some of the tourists said they will be back.
On Saturday, the ninth day of unrest in the valley following the killing of militant commander Burhan Wani, the otherwise busy markets and roads in the Dal Lake area were devoid of people.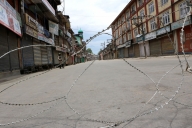 Shikaras or Kashmir's houseboats are parked on the banks. Hotels which otherwise are full during this time of the year — the peak tourist season — are devoid of guests.
The hotels on the boulevard that otherwise remain full during this time of the year – the peak tourist season – are without guests.
The tourists who were here when the troubles began have left the Kashmir Valley, many without touring resorts like Gulmarg, Pahalgam and other cites.
"Most tourists have left by now," moans Mehmood Shah, Director of the Jammu and Kashmir Tourism Department.
"The hotels are vacant. More than 90 per cent tourists have left. There are no incoming tourists as well. We made arrangements for those who were stranded here," Shah told IANS.
In Srinagar, where major areas are under curfew, the tourism sector has been hit hard.
"This is the best time of our business. We have no hope of making any profit now. We have cancelled at least 30-35 bookings till August," Sarmad Khan, a hotelier, told IANS.
"Many who were here left even without seeing any other place. This is a big loss to the industry," he added.
As the violence sparked by Wani's killing escalated, tourists were seen rushing to the Sheikh-Ul-Alam International Airport here to catch flights.
Some tourists can, however, still be seen strolling in the parks around the Dal Lake.
"We were stranded for four days. We came to Srinagar on Tuesday as we had bookings. We took the risk and came," said one tourist to IANS.
Another tourist volunteered: "We did not see anything but curfew as well as violence. That's why we are leaving."
Shopkeeper Mohammad Ashraf said that July-September were the best time for anyone to visit the Kashmir Valley because of favourable weather.
"It is very sad that we lost many people during last six days. How can we open our shops when our own children are dying?" Ashraf said.
Surprisingly, the tourists are not taking back only bad memories: curfews, shutdowns and violence.
"The best part about the last six days has been the way locals treated us here," Arun Chatterjee from Kolkata told IANS.
"My family and I were on a houseboat with locals. They were so good and sympathetic to us that I feel our trip is complete," he said.
"We will always want to come back and enjoy the scenic beauty apart from its Kashmiriyat," Chatterjee added. "We pray for peace here."