Nairobi– Prime Minister Narendra Modi on Sunday asserted that he is aiming to take India's growth to beyond 8 per cent while commending the people of Indian origin in Kenya for maintaining their Indian culture and tradition.
"At a time when the world is going through an economic downturn, India is the only bright spot," Modi said in his trademark diaspora rally at the Kasarani Stadium here soon after arriving from Tanzania on the fourth and final leg of his four-nation African tour.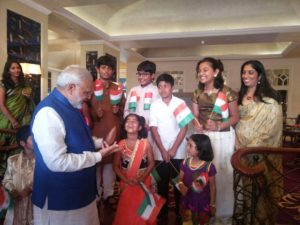 "My intention and desire is to take India's growth rate to 8 per cent and beyond," he said to rapturous cheers from a crowd of over 20,000 people.
There are around 80,000 people of India origin in Kenya, most of whose ancestors were brought as labour for the railways the then British rulers were building or came as traders.
The Prime Minister said the main driving force of India's steadfast march on the path of development was "the resolve, desire and hard work of 1.25 billion Indians".
"Improving the quality of life for the ordinary Indian, that is the main task of my government," he said.
Stating that the youth of India were intelligent, he said they have the strength to "turn soil into gold" in foreign lands as well.
"To tap into the energy of our 800 million youth, we have started a new campaign called Start Up India," Modi said.
He said the world was facing two critical issues – global warming and terrorism.
"The sooner forces of humanity join hands, the sooner we can defeat terrorism," he stated.
At the beginning of his speech, the Prime Minister commended the Indian community in Kenya for preserving their culture and tradition despite being away from their land of origin for generations.
"There must be people of third generation or fourth generation here," he said.
"They must have only heard about Ganga, Assam, Nagaland or Mizoram. Despite this, it is commendable that they have been able to preserve their culture."
He said that in Kenya he has "experienced the full diversity of India and all its fragrances".
He also commended the Indian community for contributing to Kenya's development.
"Whatever be the reason and compulsions behind your ancestors coming to Kenya, you made it your own land and worked for Kenya's progress," he said.
Modi got a pleasant surprise when Kenyan President Uhuru Kenyatta joined him at the venue unannounced.
Welcoming Modi, Kenyatta said that he was glad and excited that Modi accepted his invitation to visit Kenya.
Stating that Kenya was a multi-ethnic and multi-cultural society, he said: "These people in front may be of Indian origin, but in heart, mind and soul they are truly Kenyan citizens."
On his part, Modi said that it was a matter of "great privilege and honour for all of us that President Kenyatta is also among us to grace the occasion".
"For me and for India, it is a great, great honour," he said.
On Monday, Modi will hold bilateral talks with Kenyatta and also visit the University of Nairobi and interact with students there.
After completing his engagements in Kenya, the Prime Minister will depart for India later in the day.
This is the first prime ministerial visit from India to Kenya in 35 years after the visit of then Prime Minister Indira Gandhi in 1982.
Apart from Kenya and Tanzania, Modi's five-day Africa trip also took him to Mozambique and South Africa.