New Delhi– The Congress on Thursday alleged that the Narendra Modi government overstepped its limits to order an alternate audit by the Telecom Ministry of six telecom companies rejecting the Comptroller and Auditor General's (CAG) scrutiny. The audit by the CAG found under-reporting of income by six telecom companies to the tune of Rs 46,045.75 crore from 2006-07 to 2009-10.
The six telecom companies that were audited by the CAG were Bharti Airtel, Vodafone, Reliance, Idea, Tata and Aircel.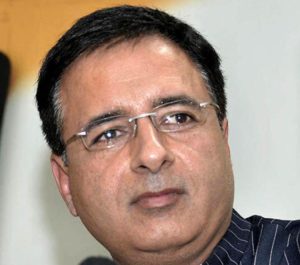 The Congress alleged that the Modi government opted for an alternate re-evaluation of these figures by the Telecom Ministry through chartered accountants who are empanelled with them.
"This reflects the apparent mal-intent of the government to dilute or diminish the figures put forth by CAG," said Congress spokesperson Randeep Singh Surjewala.
According to Surjewala, CAG had initiated an audit of the six telecom companies for four years from 2006-07 to 2009-10 at the instructions of the previous Congress-led United Progressive Alliance (UPA) government. CAG submitted its report in March 2016.
"It specifically looked at under-reporting of income and non-uniform method of accounting adopted by various telecom companies and consequent lack of obligation to pay outstanding licence fee and Spectrum Usage Charges (SUC)," said Surjewala.
He alleged that CAG found an understating of income by these six companies of Rs 46,045.75 crore in the four years.
"CAG found that there was an amount of Rs 12,488.93 crore, which remains un-recovered by the government. This does not include penalty and other relevant taxes. Final loss for these four years would be even greater than the stated amount," he said.
"Although there has been considerable increase in business, consumer base and income, even if loss of exchequer is calculated on the same formula for the years 2010-11 to 2015-16, this figure would be more than Rs 45,000 crore," he added.
Congress also alleged that the audit by CAG was delayed due to a challenge before the courts regarding jurisdiction of CAG to audit accounts of private telecom companies.
"The Supreme Court transferred all the matters before it and rejected the claims of telecom companies according to the judgement dated April 17, 2014 and permitted CAG to audit the accounts," said Surjewala.
The Congress said that instead of immediately acting on these revelations reflecting serious loss to public exchequer, the Modi government opted for an alternate re-evaluation of these figures.
"This is a clear methodology of the Modi government to inordinately delay the process of recovery for years together, if not writing it off entirely," alleged Surjewala.
"We demand recovery of all the money and further audit of the telecom companies before and after the stated audit period (2006-07 to 2009-10). The companies that got licences after 2010 are also amenable to audit," he added.
Surjewala further pointed out that under the Telecom Licensing Policy implemented in 1999 (NTP 1999), the BJP government then gave a bail out package to help telecom companies.(IANS)