Kolkata– US Under Secretary for Political Affairs Tom Shannon on Friday said he was "very impressed" with West Bengal Chief Minister Mamata Banerjee and underscored her commitment in facilitating India's policy towards Bangladesh.
Shannon, who on Thursday met Banerjee at the state secretariat, invited her to Washington for scouting for potential American investment in the state including in the port sector.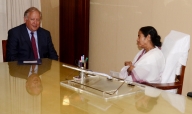 "I was very impressed by the chief minister. She is a strong leader and she has got a very clear vision about what she wants to accomplish," Shannon said at a media roundtable here.
"We like strong partners, we like to work with people who have a clear understanding of what they want to accomplish, because then we can figure out how we can participate and where we might be able to be of assistance.
"I came away with the meeting with the chief minister impressed by her visions and admiring her political skills, especially in the aftermath of her re-election," said Shannon, profuse in his praise for the Trinamool Congress supremo.
He also hailed Banerjee's role in facilitating communication with the Bangladesh government and addressing "some of the cross-border transportation issues" to promote movement of goods.
"I came away impressed by the chief minister's understanding of politics inside of Bangladesh, impressed by her relationship with Bangladesh Prime Minister Sheikh Hasina. I am convinced that the chief minister is committed to using her presence in state government to facilitate national policy towards Bangladesh," said Shannon.
While the duo did talk about the Indo-Bangladesh border, Shannon said there was no discussion on the contentious issue of the Teesta river water sharing pact.
On the investment front, Shannon said the discussion hovered around foreign direct investment (FDI) and the areas where American companies can invest including in the port sector and green industries.
"What was striking for me yesterday (Thursday), was to listen to her describe what she has accomplished in fairly short order, and how she and her team are looking for enhanced foreign direct investment and a commercial presence in the region," he said.
"She described some of the port projects (in Bengal). We have several large port authorities that have great expertise in the management of large ports, managements of industrial complexes and we believe some of them could be of real interest to her government," he said.
"We talked about how to attract hi-tech investment both software development and light manufacturing, we talked about green industries," he said.
"She has a really interesting vision for what Kolkata could become, building on its strong education base, it's obvious intellectual accomplishments, and how connecting with hi-tech industries and building of infrastructure, it can become a major commercial and development hub for the entire region.
"And for this reason, as we look at our broader policy in South Asia and South East Asia, having a kind of Kolkata that the chief minister described, would be really positive for India, and really positive for us," said the diplomat adding that the presence of American investment in the region was "not as big as other parts of the country".
Shannon also said he had invited Banerjee to the US.
"We agreed through our consul general to work with her team to explore what her visit to Washington would look like and how we could ensure that it met her interests in identifying potential American companies or port authorities that might be interested in working with her government," he added.
He also visited local cultural sites including the Ramakrishna Mission headquarters at Belur and the Missionaries of Charity's Mother House where he paid homage to Mother Teresa's tomb.