Kathmandu– The government of India has started issuing an India business card for Saarc businessmen, the Indian embassy in Kathmandu has said.
This is in pursuance of Prime Minister Narendra Modi's announcement at the 18th Saarc (South Asian Association for Regional Cooperation) summit. The embassy did not give the exact date when the issuance of the business cards began.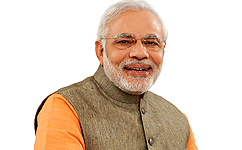 The India business card is issued to Saarc countries' businessmen who are eligible for multiple-entry business visa for three years or more.
The scheme will apply to businessmen who need a visa to visit India.
Initially, the business card will help businessmen in facilitation at the immigration counter for expeditious immigration clearance, said the statement.
The card with a special designated logo will be given to businessmen of high repute in the region.
It will help them do business in India, which in turn will help the 'Make in India' campaign.
The card will have multiple-entry validity and enable beneficiary businessmen to travel to Indian cities during their stay in the country.
Nationals from Nepal and Bhutan do not need visas to travel to India.