New Delhi– Start-ups are the next big economic force in India, the world's youngest startup nation with 72 per cent founders below 35 years of age, Commerce and Industry Minister Nirmala Sitharaman said here on Saturday.
"Start-ups are the next big economic force in India. Close to 4,400 technology startups exist in India and the number is expected to reach over 12,000 by 2020. India is the world's youngest start-up nation with 72 per cent founders less than 35 years," Sitharaman said at the Start-up India states' conference.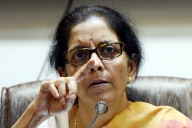 India has been pegged at third place behind US and Britain in terms of the number of start-ups.
"Government is committed to make Start-up India initiative a scalable reality and to provide an environment for our start-ups to thrive in. Through the initiative, we want to ensure that the momentum is accelerated. We are determined to make it a start-up revolution," she said.
"The government will facilitate to ensure that world's best start-up ecosystem is in India," she added.
The government has operationalised the Start-up India Hub on April 1, 2016 to resolve queries and to provide hand-holding support to start-ups.
The hub has catered to more than 13,500 queries received from start-ups through telephone, email and Twitter, she added.
The Finance Act, 2016 has made provision for start-ups to get income tax exemption for 3 years in a block of 5 years, if they are incorporated between April 1, 2016 and March 31, 2019.
Tax exemption on investments above fair market value have also been introduced for investments made in start-ups. To avail these benefits one must get a certificate of eligibility from the inter-ministerial board of Department of Industrial Policy and Promotion (DIPP).
A 'fund of funds' of Rs.10,000 crores for start-ups has been established which is managed by Small Industries Development Bank of India (SIDBI). The fund will invest in SEBI registered alternative investment funds (AIFs) which, in turn, will invest in start-ups.
"This fund acts as an enabler to attract private capital in the form of equity, quasi-equity, soft loans and other risk capital for start-ups," Sitharaman said.