BOSTON–The market value of Waltham, MA-based Alere, which is led by Sri Lankan-born Namal Nawana, fell by more than $1 billion in the last 20 minutes of trading on Wednesday after a report of a federal investigation into Medicare billing practices by the company, according to media reports.
Related article:
The Wall Street Journal and Boston Business Journal reported that the diagnostics firm, which is under agreement to be sold to Abbott Labs for $5.9 billion, received a subpoena from the criminal fraud unit of the Department of Justice. The article cites "people familiar with the matter."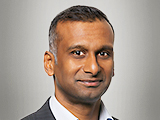 The report is the latest in a series of problems for Alere (NYSE: ALR) since its sale to Abbott was announced on Feb. 1, Boston Business Journal said. In March, the company disclosed that it had a subpoena from the Department of Justice regarding international sales of its blood coagulation test, called INRatio, and also said it wouldn't file its annual report by a federal deadline. Alere has yet to file its financial statements, Boston Business Journal said.
Just last week, the company was hit with a class action lawsuit, again regarding the INRatio test, Boston Business Journal reported, adding that the company's current valuation of $2.7 billion as of the close of markets on Wednesday, July 27,  indicate that most investors do not believe Abbott (NYSE: ABT) will go through with the acquisition.
Abbott already tried to back out of the deal earlier this year, but Alere refused the offer, and in April, comments by Abbott CEO Miles White on a conference call were interpreted as a sign that he's still not happy about the merger agreement, according to Boston Business Journal.
Alere's share price as of 4 p.m. Wednesday was $31.47, the lowest point in nearly three years, according to Boston Business Journal.
If the deal goes through, Nawana would receive about $11.1 million in one-time payouts after the Alere's acquisition is completed by Abbott Laboratories. Nawana took over as CEO of the company when Alere founder and former CEO Ron Zwanzger resigned in 2014.
Nawana has been with the company since 2012, originally as chief operating officer.
Nawana was born in Sri Lanka and raised in Australia. He holds an Honors degree in Mechanical Engineering and a Masters of Medical Science degree from the University of Adelaide in Australia and an MBA from the Henley Business School in the United Kingdom.
Before joining Alere, Nawana held various global leadership roles during his 15-year tenure at Johnson & Johnson. He most recently served as Worldwide President of DePuy Synthes Spine, a Johnson & Johnson company. Prior to that role, Nawana held general management positions spanning the globe, including Area Vice President for Johnson & Johnson Medical in Australia and New Zealand and Chairman of the DePuy Asia Pacific Franchise Council.