New Delhi– Prime Minister Narendra Modi will preside over a crucial meeting of the NITI Aayog on Thursday wherein a "concrete shape" may be given to country's first-ever 15-year vision document for accelerating all-round development, sources said.
"The NITI (National Institution for Transforming India)Aayog will make a presentation to the Prime Minister on a study report and document on the 15-year plan at the meeting," an official source said here.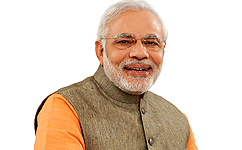 Once the Prime Minister shares his views on the 15-year vision document prepared by NITI Aayog, its governing council, headed by the Prime Minister and comprising Chief Ministers, is likely to meet to review it at a later stage.
The much-awaited 15-year vision document aims to target inclusive development and eradicate poverty in the country.
Unlike the five-year plan visions drawn earlier under the Planning Commission, the new long term vision plan would also focus on sectors like infrastructure, commerce, education and health, the source said.
Modi had announced dismantling of Planning Commission and setting up of NITI Aayog in 2014.
Along with Modi, Union Ministers like Radha Mohan Singh (Agriculture) and Arun Jaitley (Finance) will also take stock of the NITI Aayog's works on a separate seven-year strategy paper from 2017-18 to 2023-24.
The NITI Aayog was also assigned by Prime Minister prepare a 3-year action plan for 2017-18 to 2019-20 as part of the National Development Agenda, which will be aligned with the 14th Finance Commission award period, the source said.
Sources said Modi is keen to involve the Chief Ministers for the consultation process as the 15-year document will essentially signal a "paradigm shift" in the very planning process marking the virtual end of the "five year planning system" enforced in the country since 1951.
The NITI Aayog on Wednesday held consultations with the Chief Secretaries of the states to discuss the vision, strategy and action plan documents.
The 15-year vision document may be finalised as a policy statement by the year-end.