New Delhi– The 15-year long term plan Vision Document prepared by NITI Aayog has drawn out ambitious plans for the country's development, towards eradicating poverty and achieving targets of sustainable development, Vice Chairman of the plan body Arvind Panagariya said here on Thursday even as Prime Minister Narendra Modi urged the panel to lay a foundation for growth.
At a meeting of the NITI Aayog, Prime Minister Modi directed the panel – also called a policy research arm of the government after dismantling of the Planning Commission, to "shed the past".
"Prime Minister said I am a person who does experiment and I have confidence this shows results," Panagariya told reporters after Modi reviewed the Aayog's Vision Document at a high-level meeting.
"The NITI Aayog should strive to excel and come out to take new challenges and Vision Document should lay the foundation of the 21st century for India," an official source later said quoting the Prime Minister.
"Prime Minister has stressed on transformational changes rather than having incremental changes," the source told IANS.
Modi, also an admirer of new technology and innovation, said that there is a "need to win" the war of policies and chase things according to the technological demands.
"We won't speculate on the vision document, many issues have been raised for the first time. We have an ambitious vision," Panagariya said.
"We had a good meeting with Prime Minister for over two hours, he desired to review our flaws in the planning system," he said.
Prime Minister Modi, who is Chairman of NITI Aayog, reviewed the progress made by the policy research arm of the government and suggested remedial measures.
Asked whether the Vision Document will be approved by the NITI Aayog Governing Council, Panagariya said no decision has been taken on this.
The Council is headed by the Prime Minister with all Chief Ministers on its board.
Modi urged NITI Aayog to take inspiration from events such as the success of the Give-it-Up campaign.
"This experience shows that people are not only interested in benefits for themselves as experts would feel. It proves that people are motivated by the larger public good," he said.
The meeting was also attended by the Minister of State for Planning Rao Inderjit Singh, members of the NITI Aayog, besides senior officials from the NITI Aayog and Prime Minister's Office.
The vision document and action plan of NITI Aayog and their review have become important because by the end of fiscal 2016-17, the 12th Five Year Plan prepared by the now-defunct Planning Commission comes to end.
Set up in January 2015, the NITI Aayog was mandated by the Prime Minister and the Governing Council to come up with a 15-year vision document for a period up to 2030.
The NITI Aayog was also assigned to working on a 7-year strategy starting from 2017-18 to 2023-24 to convert a vision document into implementable policy.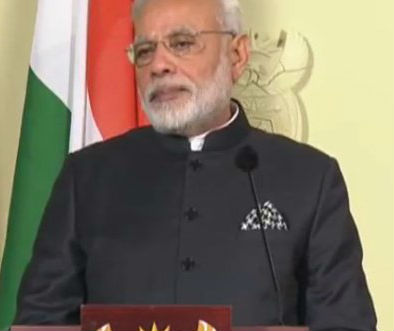 It is also to work on a 3-year action plan for 2017-18 to 2019-20 as part of the National Development Agenda. This has been linked to the 14th Finance Commission award period.
According to Panagariya in his address, PM Modi has underlined that the vision document should not be treated only as a vision document for 15 years but "it should lay down the foundation of an entire century".
Among other issues, PM stressed that there is a need to make an exhaustive list of "untapped natural resources", the potential of which should be and can be exploited.
Modi also pointed out that there is a need to make states "equal partners" in economic and social development and also that plans should aim at strengthening states – which ultimately can go a long way in creating a strong India.
"We need to think of multiple utility of existing institutions and resources in to benefit maximum number of citizens," the Prime Minister said.
For its part, in the presentation made by NITI Aayog Vice-Chairman emphasis was given on enlisting the services of experts from different fields.
"Increased complexity of the economy has meant that as a general rule, it is no longer possible for generalists to learn any subject within a matter of weeks," Panagariya said in presence of the PM.
Panagariya said that the Aayog will be cautious enough not to be bogged down by the legacies of past and will avoid repeating some of the mistakes of the Planning Commission.
Modi in principle said even for export potential, suggestions should come from the states and the Centre then can play a role of a catalyst.  (IANS)