New Delhi– Power Minister Piyush Goyal on Wednesday launched the process of tariff-based reverse auction in the transmission sector, simultaneously inaugurating a portal for electronic bidding for transmission projects.
He launched here the "Tarang" mobile App, "e-Trans" and "DEEP" (Discovery of Efficient Electricity Price) e-bidding web portals developed by Rural Electrification Corp, saying that reverse auction is being introduced in transmission sector on the lines of coal sector in order to facilitate better price discovery in such projects.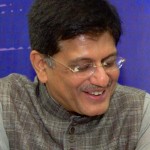 The web portal marks a shift from the current manual auction process to the electronic mode for determining the lowest bidder for the projects.
"Tarang is a powerful monitoring tool that tracks upcoming transmission projects and monitors the progress of inter-state and intra-state transmission systems in the country, being developed through regulated tariff mechanism as well as Tariff Based Competitive Bidding route," Goyal said.
The Tarang (Transmission App for Real Time Monitoring and Growth) mobile app will also give information on delayed transmission projects and issues halting them, the power ministry said in a release here.
The DEEP e-Bidding portal allows for medium term (1-5 years) purchase of power.
The government had earlier launched the facility to buy power for short term (one day to one year). The portal is expected to extend the facility for long term power purchase beyond five years.
Goyal said that by introducing e-bidding and e-reverse auction for medium term of 1 to 5 years, the time span of the complete bidding process and the cost of procurement of power is expected to be reduced substantially, thereby significantly benefiting the ultimate consumers. (IANS)