New Delhi– India has formally requested UN agency World Intellectual Property Organisation (WIPO) to open an office in the country and is ready to offer premises free of cost for this purpose, Commerce Minister Nirmala Sitharaman said on Friday.
India's offer was conveyed by Sitharaman to WIPO Director General Francis Gurrey at a meeting here, an Indian commerce ministry statement said.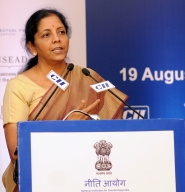 WIPO, one of the 17 specialised agencies of the United Nations, promotes intellectual property (IP) throughout the world, and administers various multilateral treaties.
"WIPO and the Indian IP Office are cooperating with each other in training of various IP examiners and other stakeholders. To this end, an International Training Course is being organised in RGNIIPM jointly with WIPO Academy in September 2016," the statement said.
"India has also requested WIPO to consider opening a Regional Training Academy in Nagpur. WIPO had proposed holding Global Digital Content Market Conference, 2017 in India, which has been accepted by India.
"Both parties agreed to having a high-quality conference in May 2017," the statement added.
Earlier on Friday, Sitharaman and Gurrey attended an event here to launch the Global Innovation Index (GII) 2016.
India's GII ranking has improved dramatically to 66, from 81 last year.
At the event, Sitharaman announced that a team would be set up to advise on how to further improve India'a ranking in the global index of countries in the sphere of innovations.
In his address, Gurrey lauded India's efforts in innovation, particularly being a vast and diverse country, pointing out that the top ranked countries are mostly small, compact economies with much lesser complexities and issues. (IANS)