New Delhi– Major comments on the Indian economy made by Prime Minister Narendra Modi during his Independence Day address to the nation from the Red Fort here on Monday: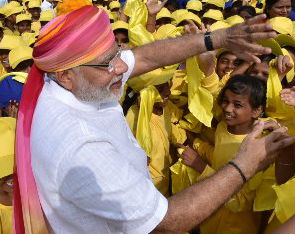 * Be it the International Monetary Fund, the World Bank or the World Economic Forum, they have all declared India to be the best destination for global capital.
* GST is one such tax reform that will help us bring financial stability. One nation, one grid and one price is what we have worked on.
* We are working with the RBI to bring inflation to the 4 per cent, plus-minus 2 per cent range. Under the previous government, the inflation level had crossed the 10 per cent mark, but we did not let it rise above 6 per cent.
* The government had brought down the cost of a Rs 350 LED bulb to Rs 50. We want to distribute 77 crore more LED bulbs.
*Earlier village roads were constructed at the rate of 70-75 km per day. Now we construct 100 km in a day.
* Public sector companies were always seen as ones that make losses. My government succeeded in bringing Air India back to a situation where it is logging operational profits. BSNL has also managed to report operational profit.
* The impossible was made possible by adding 21 crore people in the Jan Dhan Yojana.
* The government was trying to link all government schemes with Aadhaar to avoid leakage.
* Post offices will be converted into payment banks. With the advent of technology post offices are becoming irrelevant and the government is focusing on keeping them relevant.
* The government had decided to complete around 118 projects worth Rs 7.5 lakh crore of previous government which were pending for years.
* Pension for our freedom fighters will be increased by 20 per cent. So those who are receiving Rs 25,000 will now get Rs 30,000.
* It is my dream to double the income of farmers by 2022.