By Aparajita Gupta

Istanbul– Describing India as a favoured market, Turkish Airlines' Chairman of the Board and Executive Committee Ilker Ayci said on Tuesday that the company is keen on expanding its operations to various parts in India like Chennai, Bengaluru and Hyderabad.
"India is a market that is close to our heart. But unfortunately we have a problem of getting permission to fly. We want to fly to Chennai, Bangalore and Hyderabad. We are right now flying to Delhi and Mumbai," Ayci told reporters on the sidelines of a press meet at the headquarters of the national carrier.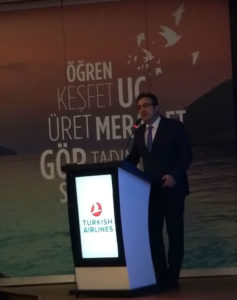 Turkish Airlines started operations in India in 2004 with Delhi. It now has seven flights from Delhi and Mumbai in a week.
Trying to allay fears in the minds of the people post the military coup attempt that took place in middle of July, Ayci said: "I want to make it clear how safe people are here. Our foreign exchange, capital markets and the economy are making great progress. We are continuing all our operations despite all the things that had happened."
In the attempted coup at least 90 people were killed in capital Ankara, while the number of injured were around 1,150.
He flayed the coup attempt and also condemned the attack on media at that time.
Addressing media from 18 countries including India, Bangladesh, Kazakhstan, China, Sri Lanka, Mongolia, Singapore, Malaysia and Japan, Ayci said it is important to allay fears from the minds of people to build brotherhood and solidarity which will lead to commercial investments and tourism.
The airline operates in Asia & Pacific region, Europe, North America, Middle East, Africa and Latin America. It gets most of its traffic from Asia & Pacific region.
It touches around 116 countries and 294 destinations, including 243 international destinations.
"The Asian market is very important for us. All of us have relatives in Asia. Keeping that in mind we are introducing new cabin crews who can speak languages like Korean, Chinese and Japanese," said Ayci.
Saying that passengers are not their clients but guests Ayci said Turkey was a "centre of living together".