BOSTON—An attorney for Amit Kanodia, a Brookline, MA-based businessman who was convicted of insider trading on Monday, intends to file an appeal as to remaining charges.
"We are grateful to the jury for finding Mr. Kanodia not guilty today as to 8 counts which included many of the central allegations of the accusation against Mr. Kanodia,"  attorney Martin Weinberg, counsel for Kanodia, told INDIA New England News in an email. "We fully intend to file an appeal as to the remaining charges and are confident in the strength of the legal issues that will be the basis of this future appeal."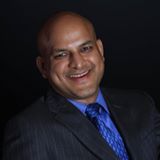 Kanodia, a Brookline, MA-based businessman, was convicted of engaging in insider trading with two friends after learning of India-based Apollo Tyres Ltd's (APLO.NS) planned attempt to buy Cooper Tire & Rubber Co (CTB.N) in 2013, Reuters news agency reported.
"Amit Kanodia, 49, was found guilty by a federal jury in Boston on 11 of the 19 counts he faced, including conspiracy and securities fraud. He was acquitted of the other eight counts of securities fraud, prosecutors said," Reuters said.
Kanodia, who had pleaded not guilty, is scheduled to be sentenced on Jan. 18, according to Reuters.
Prosecutors said Kanodia learned details about the proposed merger between Apollo and Cooper Tire from his then-wife, who was Apollo's chief legal officer, more than two months before the deal was announced.
Prosecutors said Kanodia tipped off two of his friends, including Iftikar Ahmed, a general partner of Greenwich, Connecticut-based Oak Investment Partners, according to Reuters.
Prosecutors said Ahmed and the other friend, Steven Watson, traded on the confidential information before the deal was announced and shared about $245,000 of their more than $1.17 million in illegal proceeds with Kanodia, Reuters reported. Those payments were made to an account Kanodia opened for a charity, Lincoln Charitable Foundation, ostensibly to raise money for flood victims in India, even though he used much of the money for his own financial investments, prosecutors said.
Both Kanodia and Ahmed were charged in connection with the insider trading scheme in April 2015, and Watson pleaded guilty that August as part of a cooperation deal with prosecutors, Reuters said.
Ahmed fled the United States for India in May 2015. Prosecutors have since separately accused him of embezzling $54 million from Oak Investment Partners, according to Reuters.
In April 2015, Kanodia was arrested and charged in U.S. District Court in Boston in connection with his role in an insider trading scheme that netted more than $1 million in illegal profits, US attorney's office had said in a statement at the time.
As alleged in the criminal complaint, prior to April 2013, Kanodia secretly tipped off his friend Ahmed, an executive at a Connecticut-based fund, and another friend, about the contemplated acquisition of Cooper Tire & Rubber Company by India-based Apollo Tyre.  Kanodia learned about the possible acquisition from his wife who was the General Counsel of Apollo at the time.  In the months leading up to the public announcement of the acquisition, both Ahmed and the associate, purchased shares and options in Cooper Tire which trades on the New York Stock Exchange.  On the day of the announcement, Cooper Tire's share price increased 41% and Ahmed and his associate began selling their interests in the company for a combined profit of more than $ 1 million.  It is alleged that both Ahmed and his associate paid Kanodia a portion of their illegal profits, according to 2015 press release.
The charging statute provides for a sentence of no greater than 20 years in prison, five years of supervised release, a fine of $5 million.  Actual sentences for federal crimes are typically less than the maximum penalties.  Sentences are imposed by a federal district court judge based upon the U.S. Sentencing Guidelines and other statutory factors.