Bengaluru– India's bio-pharma major Biocon Ltd has been ranked among the world's top 10 employers in the biotechnology industry by an international science magazine on Friday.
According to a web-based annual survey by the magazine, the city-based company moved to ninth this year from 13 last year in the 'Science 2016 Top Employer' ranking, which is based on firms that are innovative leaders in the industry, are socially responsible and have a clear vision.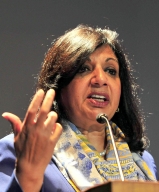 "The ranking is recognition of our high quality talent aligned with the vision of innovation-led enterprise that is socially responsible," said Biocon Chairperson Kiran Mazumdar-Shaw in a statement here.
When the magazine asked what makes companies best, their employees asserted that top firms operate as meritocracies, have adequate resources, trusted brands and are responsive to their stakeholders.
"We believe that our employees are our great strength. Our work culture of unconventional thinking, focus on excellence, freedom of speech and empowerment instills confidence and ownership in our people," added Shaw.
Of the top 10 employers, six are based in the US, two (Novo Nordisk and Novozymes) in Denmark and one (Roche) in Switzerland.
The US-based ranked biotech firms are Regeneron Pharmaceuticals, Moderna Therapeutics, Eli Lily, Vertex, Genetech and Alexion. (IANS)