By Ashish Mishra

Jaipur–Sahab Ram Saharan, a farmer in Rajasthan's Sri Ganganagar district, some 15 km from the India-Pakistan border, finds cultivating traditional crops unprofitable. Now, encouraged by the government, he has turned a progressive farmer by growing olives — and hopes to reap a profit Rs 10 lakh to Rs 12 lakh ($15,000-$18,000) this year.
"A few years ago, I came to know that the government is promoting olive cultivation in the state. We procured saplings from the government and planted 6,700 olive plants over 10 hectares of land in 2013. Fruiting takes place from the 4th year onwards," Sahab Ram, who lives in a small hamlet of Maderan, told IANS.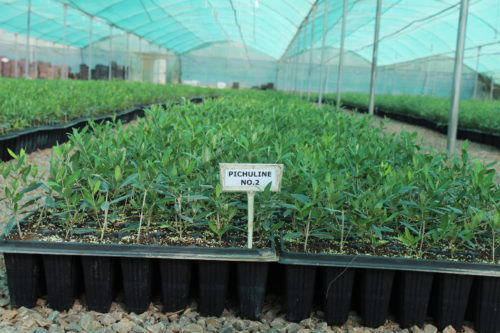 "We have entered the fourth year and are now expecting good yield," he added.
His nephew Deepak Saharan, who studied in Australia where he came to know about progressive farming, said that growth of the olive plants is good at his farm and he is expecting a good crop.
"We are hoping for 30 kg of fruit per plant. We have been told that the government will buy back olives from us. They will pay us according to the oil content in the fruits (13 to 17 per cent per fruit). Overall we are expecting around 10 to 12 lakh rupees profit," Deepak told IANS.
Sahab Ram is not alone. Several farmers in Sri Ganganagar, Bikaner, Jaipur and Nagaur have diversified by moving from the conventional to cash crops like olives for good profit.
Farmers like Sahab Ram are now eyeing a huge domestic that is currently dependent on imports from countries like Israel, Turkey, Italy, Portugal and Jordan, among many others.
Rajasthan Agriculture Minister Prabhu Lal Saini said that farmers were increasingly diversifying and opting for olive cultivation.
"Through olive cultivation, farmers are diversifying to get high value for their crops. Rajasthan is pioneering in progressive farming. We are also making successful efforts with cultivating pomegranates and date palms," Saini told IANS.
According to the officials of the state's Horticulture Department, the Rajasthan government initiated the olive cultivation project with technical support from Israel in 2008. Seeing the ample possibilities, the state government formed the Rajasthan Olive Cultivation Ltd (ROCL) in the public-private-partnership (PPP) mode.
ROCL Chief Operations Officer Yogesh Verma said that olive cultivation is at present spread over 800 hectares, of which 182 hectares is government land.
Initially, seven varieties of olive — Arbequina, Barnea, Coratina, Picholine, Picual, Koroneiki and Frantoio — were imported from Israel and planted at eight farms in Jaipur, Jhunjhunu, Bikaner, Sri Ganganagar, Nagaur, Jalore and Alwar.
To provide high-quality plants to the farmers, the state government, with Israel's help, has set up a centre of excellence at Jaipur's Bassi area.
"Plants developed through tissue culture are first kept in a rooting chamber. Rooting takes 20-25 days and the plants are then transferred to the hardening unit where they are acclimatised with the field conditions. After the plants reach 30 to 50 cm, they are planted in the fields," Verma told IANS.
He added that olive cultivation needs adequate cold and dry atmosphere during winter and summer, respectively. On an average, an olive plant needs 10-15 litres of water per day.
"Rajasthan's climatic conditions are congenial to olive cultivation. Here, the winter temperature goes down to 4-5 degrees Celsius while in summers it reaches up to 40-45 degrees Celsius.
"During fruiting, olive trees need high temperatures for a prolonged spell. They need extra care during the rainy season. To get good production, constant pruning of the plant is necessary. The maximum height of an olive tree should be kept at 4.5 metres," Verma said.
The Rajasthan government also provides subsidies on plant saplings, fertiliser and drip-irrigation systems.
"We are providing 75 per cent subsidy per plant sapling. For instance, in one hectare, 476 saplings which cost around Rs 60,145 can be planted but the farmers have to only pay Rs 15,520. Through the micro-irrigation scheme, subsidy is also being given to the farmers for drip irrigation systems," Saini said.
Saini, who is himself a farmer, says horticulture in the state has grown 14 to 18 per cent. Agriculture contributes 31 per cent to Rajasthan's GDP, against the services sector's 46 per cent.
"Our agriculture contribution to the state GDP is higher than the national figure of around 20 per cent," the minister said.
He said that Rajasthan has 67 per cent of arid or semi-arid area and with progressive farming, agriculturists were being taught to cultivate with less water.
"There is a saying, 'Agriculture in Rajasthan is a gamble with rain'. We want to change this," Saini added.