New Delhi– In yet another clarification on the government's demonetisation drive aimed to curb black money, Finance Minister Arun Jaitley said on Thursday that the move towards a cashless economy is actually a "less cash economy" as no economy can be fully cashless.
Making his opening remarks at the fifth meeting of the Parliamentary Consultative
Committee, he said digital transactions are a parallel mechanism and not a substitute for cash transactions as no economy can be fully cashless, a Finance Ministry release here said.
He emphasised that a "cashless economy is actually a less cash economy", it said.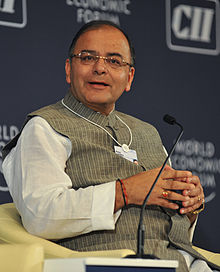 "He said that less cash can be gradually substituted to the possible extent through digital payments and transactions," the statement added.
According to the ministry, Jaitley told the committee members that the "government was trying its best to minimise common man's pain".
Admitting that there are visible and hidden costs in reducing cash volume in the economy, the government last week announced a series of eleven measures designed to increase the pace of digital payments.
Among the measures, payment by card for petrol and diesel will enjoy a discount of 0.75 per cent.
Customers will get a higher discount on digital payment as all central undertakings will ensure that the transaction fee and merchant discount rate (MDR) charges are waived on such payments, Jaitley said.
Suburban railway monthly and season tickets bought through digital payment will get a 0.5 per cent discount, effective from January 1, 2017, beginning with the Mumbai suburban railway network.
Jaitley also announced that online payment for public sector insurance companies (life insurance and general insurance) will get 10 per cent discount for general insurance and 8 per cent discount for life insurance for new policies sold. (IANS)