New Delhi–The Supreme Court on Thursday banned the sale of liquor within 500 meters on either side of national and state highways across the country.
A bench headed by Chief Justice T.S. Thakur said that all liquor vendors holding licenses for selling liquor would continue to do so till their licenses were valid or till March 31, 2017, whichever was earlier. The licenses would not be renewed.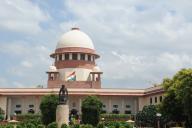 The order came on a batch of petitions including those by the states and NGOs.
Around 300 liquor outlets in Kerala will down shutters from the new fiscal in line with the Supreme Court's ruling banning the sale of liquor along highways.
The order came on a batch of petitions including those by the states and NGOs.
Kerala Excise Minister T.P. Ramakrishnan told reporters that he is yet to get a copy of the ruling and the decision would be adhered to by the state government.
"Once we get a copy of the judgement, we will study it … at the moment, there is no decision as yet, whether to go in for appeal. First, let us get the judgement," said Ramakrishnan.
In Kerala, liquor is presently served in around 30 five-star hotels and around 600 beer and wine parlours besides 334 state-owned retail outlets.
For the beer and wine parlour owners, this new decision could spell the end of their business as it cannot be moved from the present location but the state-owned retail outlets could possibly move away from the highways.
"It's not an easy task as the new retail outlets will have to ensure that other restrictions do not affect their opening at a new location, as laws are stringent. Besides the laws, there could be possible agitations by the local populace," said an industry source.
Biju Ramesh, who owns beer parlours in Thiruvananthapuram, said he welcomes the decision even though he would have to close down a few of his parlours.
Since 2015, following the liquor policy of the then Oommen Chandy government, more than 700 bars in two-, three- and four-star hotels were closed down, after which many of them began functioning as wine and beer parlours.