Agartala–The US government is keen to develop connectivity between India and its neighbours in the Bay of Bengal region and its adjoining areas to boost economies, US Ambassador to India Richard Verma said here on Saturday.
"During my visit to the northeastern states, I have discussed with the governments of the region about connectivities, trade, economy and commerce, energy related issues," said Verma, who has since Monday visited five of the eight northeastern states – Assam, Meghalaya, Manipur, Nagaland and Tripura, and met Chief Ministers and other stakeholders to discuss various economic and bilateral issues.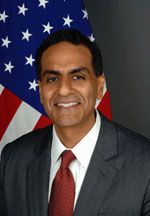 Talking to reporters here, he said that the northeastern region of India has huge resources and potentiality and these must be utilised for the economic development of the region.
"A two-day connectivity summit would be held in Kolkata on December 14-15. We have invited all the northeastern states of India and few other neighbouring countries to participate in the event to boost the connectivity, trade and economy," he added.
"The US government is exploring ways to build better linkage with India especially the resource rich northeastern region through trade, education, infrastructure or innovation. Currently over 500 US companies are working in India and we are keen to work more with India in diverse sectors."
Before returning to New Delhi, he visited a 726 MW power project commissioned by state-owned Oil and Natural Gas Corporation (ONGC) at Palatana in southern Tripura, 65 km south of here.
"The US-based General Electric Company has supplied the turbines for the power project," he said, adding that the US is keen to collaborate more with India in science and technological sector.
In Tripura, the US envoy visited famous Tripura Sundari temple and the state museum besides India-Bangladesh border at Akhaura and witnessed the beating the retreat ceremony jointly conducted by the Border Security Force (BSF) of India and Boder Guards Bangladesh.
Verma is accompanied by the US Consul General in Kolkata and other officials.
An US Consulate media official said that this visit was part of the ambassador familiarisation tour through northeast India and during this trip, he underscored several key aspects of the strong US-India partnership.