New Delhi– Economic Affairs Secretary Shaktikanta Das on Sunday asked e-tailer Amazon to refrain from being flippant about Indian symbols and icons and warned the American e-commerce giant that "indifference will be at your own peril".
"Amazon, better behave. Desist from being flippant about Indian symbols & icons. Indifference will be at your own peril," Das said in a tweet.
"Remain committed to economic reforms, ease of doing business & open trade. Sometimes get touchy when our icons are involved," he said in a separate tweet.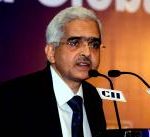 In a third tweet, however, he added: "Comment on Amazon was as a citizen of India as I felt strongly about it. Nothing more should be read into it."
The Secretary's comments came days after External Affairs Minister Sushma Swaraj received a complaint about doormats portraying the Indian flag being listed for sale on Amazon's Canada website.
Two days after Amazon's Canada portal removed the article with doormats depicting the Indian flag after India objected to it, the online company, on its US portal, put up another article of slippers with Mahatma Gandhi's image on it.
This provoked the Indian Ministry of External Affairs to say on Saturday that the company should respect Indian sensitivities and sentiments.
"As a follow up to the matter regarding the sale of doormats with the Indian flag on Amazon, our Ambassador in Washington has been instructed to convey to Amazon that while providing a platform for third party vendors, they should respect Indian sensitivities and sentiments," said MEA spokesperson Vikas Swarup.
Amazon describes the products as 'Gandhi flip flops' as a pair of "foam rubber flip flops". It costs $16.99, or about Rs 1,200.
Soon after India threatened it won't grant visas to any Amazon official if the company did not withdraw the Indian flag-themed doormat from its Canadian platform, the e-commerce website removed the article from the online marketplace, a media report said on Thursday.
"Amazon must tender unconditional apology. They must withdraw all products insulting our national flag immediately," Swaraj had said in a tweet.