By Vishnu Makhijani

New Delhi–Marketing is all about storytelling, says London-based writer of Indian origin Vish Dhamija, who once aspired to be a doctor and then a lawyer and who today successfully combines the career of a digital marketer with that of a bestselling author, having churned out five works of crime fiction, with another on the way later this year.
And, the remarkable thing is that in spite of being away from India for close to two decades, the author of the recently-released "Nothing Else Matters" (Shrishti/pp 236/Rs 250) captures the nuances of the Mumbai underbelly with uncanny accuracy, thanks largely to his own experiences back home, the web and his legion of friends and acquaintances in India's financial capital.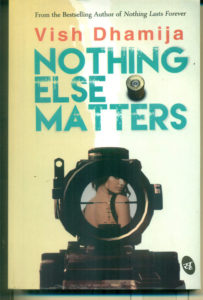 "I was born in Ajmer, Rajasthan. As a child, I originally wanted to be a doctor, but later became interested in law. I even enrolled in law classes but dropped out and got into management. Once I completed my education, the usual grind of life took over — job, career, and financial responsibilities," Dhamija told IANS in an email interview from London.
"I took a career break in 2000 to complete an MBA from Manchester Business School, and I've been in the UK ever since. I am a storyteller at heart. Isn't marketing all about storytelling," he asked.
How did the writing bug bite him?
Back in the 1990s, he recalled, he had a motorcycle accident that quite brought his life and career to a standstill. Lying idle at home, he came up with a plot while recuperating.
"At the time, it was merely a thought. Once I was back on my feet, it quickly got buried. I finally decided to write the story in 2008. And although the final story ("Nothing Lasts Forever") morphed into something entirely different, the storyline was true to the plot I had imagined way back in the nineties," he explained.
How did he prepare for his present book and how does he get everything almost down to the T?
"One word: Research; and the fact that I've lived in India for more than half my life. I know the locations, the language, the social scene and the like," he replied.
Then, a lot is available on the web — but not all, Dhamija said, and gave two examples.
"I wrote that the mafia generally refrains from riding in the elevators — now, that's not something you would find on the web; and the prison scenes — not many people would know that the Arthur Road Prison in Mumbai has a cell for solitary confinement that's nicknamed: anda cell (due to its shape)," the author said.
Noting that he has relatives in the police in India who he frequently "calls and harasses", Dhamija added: "To be honest, even with the most meticulous research, the narrative still isn't a hundred per cent procedurally correct. And no book/story from any author would ever be — you've got to appreciate that it is fiction. It needs to be realistic, not real."
What then is "Nothing Else Matters" all about?
It's the story of a hired gun, Luv Singh, who carries out assassinations for an underworld don. His clients are anonymous, so are the targets. Out one night on a job, he waits for his target to climb out of the car that's just arrived at the scene. As he looks through the scope of his rifle, his finger on the trigger, he sees his target accompanied by one of the most gorgeous women Luv has ever seen: Zoya.
Zoya Merchant was Luv Singh's girlfriend back in college, almost two decades earlier.
He fails to take the shot. He's betrayed Zoya once before and so he can't assassinate her husband. Knowing that the mafia doesn't condone failure or dissidence, he still pledges to save Zoya's husband from whosoever's calling the shots.
As for his other works, "Nothing Lasts Forever" was published in 2010 and is what Amazon categorised as "romantic suspense". "Bhendi Bazaar" (2014) is noir; a dark, compelling psychological thriller. "Déjà Karma" (2015) was his first legal thriller with a psychological twist. "Doosra" (2016) is a robbery-homicide story.
What's next on the cards?
"A legal thriller; it's due to release in mid-2017," Dhamija said.
What keeps him going?
"I want it to remain a passion and not become another job," Dhamija explained. (IANS)