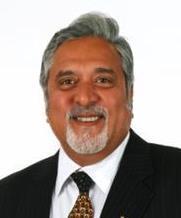 London–Liquor baron Vijay Mallya, wanted in India for defaulting on over Rs 8,000 crore in bank loans, was arrested here on Tuesday. Within hours, a court granted him bail.
Metropolitan Police said Mallya, 61, was taken into custody after attending a central London police station.
The Westminster Magistrates' Court later gave him bail on a 650,000 pound bond. The next hearing of the case will be on May 17.
A Metropolitan Police statement said officers from the Extradition Unit arrested Mallya on an extradition warrant from India.
"Mallya was arrested on behalf of the Indian authorities in relation to accusations of fraud," the statement said.
After getting bail, Mallya tweeted: "Usual Indian media hype. Extradition hearing in court started today as expected."
Mallya fled to Britain in March 2016 after being pursued in courts by Indian banks seeking to recover Rs 8,191 crore owed by his now defunct Kingfisher Airline.
The banks had been able to recover only Rs 155 crore. Despite multiple injunctions, Mallya failed to appear before investigators — and then flew out of India.
On February 8, the Indian government handed over to the UK authorities a formal request for Mallya's extradition, saying it had a legitimate case against him on charges of financial irregularities and loan default.
The loan, granted in September 2004, was reviewed in February 2008.
India's Central Bureau of Investigation (CBI) and Enforcement Directorate initiated criminal investigation against Mallya in July 2015 and January 2016 respectively under the Prevention of Money Laundering Act.
The Indian agencies took the step on the basis of complaint filed by a consortium of 17 banks led by the State Bank of India.
The cases were registered against Mallya, Kingfisher Airline, UB Group company United Breweries Holdings Ltd and others.
The Enforcement Directorate in March and April 2016 issued a number of summons against Mallya to appear before it but he failed to do so.
Subsequently, a non-bailable warrant was issued against Mallya by a Mumbai court in April 2016. His passport was revoked on April 23.
The court in November ordered the seizure of domestic assets of Mallya and entities controlled by him.
The Enforcement Directorate said that it has attached properties of Mallya and his companies having market value more than Rs 8,000 crore.