New Delhi–The huge potential of e-commerce towards retail exports from India will only be feasible through modifications in the current Merchandise Exports from India Scheme (MEIS) policy under the Foreign Trade Policy (FTP) 2015-20, a recent study said here on Monday.
According to the study 'Exploring Potential of E-Commerce for Retail Exports of Indian MSMEs in Manufacturing Sector', the total potential for business to consumer (B2C) e-commerce retail exports from India is estimated at approximately $26 billion, of which $2 billion can be achieved by 2020 from 16 product categories.
The study highlighted the need for the government to recognise e-commerce retail exports as an industry and work towards removing regulatory barriers, including reviewing the FTP policy and simplifying customs duty procedures.
The survey was prepared by the Federation of Indian Chambers of Commerce and Industry (FICCI), Indian Institute of Foreign Trade-Centre for MSME (micro, small and medium enterprises) Studies (FICCI-CMSME) and Apex Cluster Development Services, supported by e-commerce platform eBay India.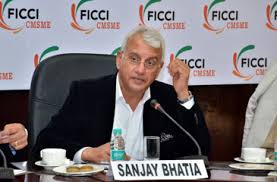 The study provides MSMEs with the requisite information to undertake e-commerce retail exports while exploring the untapped potential of the international B2C e-commerce market by leveraging the digital platform to bridge the gap between buyers and sellers.
It also aims to intensify the global reach of Indian MSMEs and enhance the export competitiveness of 'Made in India' products.
S.N. Tripathi, Additional Secretary and Development Commissioner, Ministry of MSME, said currently Indian manufacturers were producing locally for global markets and the study revealed that manufacturers were taking advantage of technology to reach global markets.
Alluding to various initiatives of the government of India such as 'Zero Defect Zero Effect', Tripathi said the MSMEs should take advantage of schemes to improve the quality of their products and scale up their business, adding that the government was working towards improving ease of doing business and addressing various challenges faced by MSMEs.
"There is no way we can undermine the contribution of MSMEs to our economy and it is in fact very important that we continue to explore synergies to integrate this very important sector with the latest emerging trends. E-commerce is one such trend which is massively changing the mechanism of global businesses," said Sanjay Bhatia, President, FICCI-CMSME.
Bhatia said the study highlights the need for MSMEs to increase their presence in international market places using B2C exports as major tool.
The study covers in detail the status, missing opportunity by MSMEs and also suggests the policy changes required to make B2C e-commerce a smooth and attractive option for the exports by MSMEs.
"We are positive that together with FICCI and IIFT, we will be able to initiate dialogues at policy level to ease norms for e-commerce retail exports and encourage larger MSME base to tap the potential of e-commerce," said Navin Mistry, Director Retail Exports, eBay India. (IANS)