New Delhi– In tune with India's growing engagements with Africa, External Affairs Minister Sushma Swaraj on Monday held the 12th India-Tunisia Joint Commission Meeting with her Tunisian counterpart Khemaies Jhinaoui here.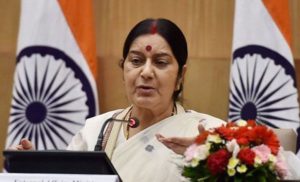 The focus of the meeting was on "setting up a robust agenda for bilateral cooperation", External Affairs Ministry spokesperson Raveesh Kumar tweeted.
The re-engagement with the North African country comes more than a year after then Vice President Hamid Ansari's visit to Tunisia in June last year. The two countries had then inked several agreements.
Bilateral trade between India and Tunisia stood at $370.46 million in 2016.
Tunisia has been a reliable source for phosphates and India accounts for around 50 per cent of Tunisia's global phosphoric acid exports.
India exports a wide range of products including knocked-down kits, automobiles, electrical items, cotton, mechanical engines, organic chemical products, rubber, rice, coffee and spices.
Jhinaoui is accompanied by a high-level business delegation representing diverse areas of business, trade and investments.
India has been increasing its engagement with Africa, including through a series of high level visits in the last two years — by President Ram Nath Kovind, then President Pranab Mukherjee, then Vice President Ansari and Prime Minister Narendra Modi. New Delhi hosted the India Africa Forum Summit in October 2015 that saw all 54 African nations participating.
Earlier this year, India hosted the annual meeting of African Development Bank. (IANS)