By Mayabhushan Nagvenkar

Book: How Fund Managers Are Making You Rich; Author: Pravin Palande; Publisher: Maven/Rupa; Pages: 254; Price: Rs 595
If you have invested in mutual funds and are waiting for those number-crunching fund managers to do their thing and make you rich over time, this thoroughly researched book tells you more about those invisible financial wizards who ensure that your stacks of virtual cash actually go skyward.
Pravin Palande, a financial journalist, may not offer you the proverbial key to the gold mine, but what "How Fund Managers Are Making You Rich" actually does is to offer the reader a pickaxe and a shovel and then goes on to explain how to use it to get through to the mother lode. Sure, it is not a "get rich overnight" manual, but an essential primer to understanding mutual funds and the minds which manage them.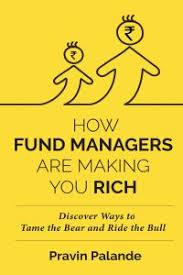 Through 254 pages, Palande offers a basic primer to investing in mutual funds, along with approaches to investments and the risks involved, while outlining the highs and the lows, and profiling some of the big guns in the fund management industry. The detailed profiles of fund managers will not only reveal nuggets of their personality but, for a serious investor, will also lend a face and offer facets of the very people who are in a position to escalate your fortunes.
A case in point is star fund manager Anoop Bhaskar, who made a killing on the Unitech stock, which multiplied a hundred times, and successfully exited before the stock went bust and sank under the weight of the 2G spectrum allotment scam.
The author also simplifies and puts into context Bhaskar's acumen early in the fund manager's career, when he invested in courier firm, Blue Dart, at a modest Rs 70 per share.
"He (Bhaskar) bought one per cent of Blue Dart at Rs. 70 per share and sold it for Rs 1,600 (per share) in the next three years. The basic call was that if the economy picked up, logistics would follow. If there is a financial boom in the economy, then it will be a good thing for courier companies. Blue Dart became the secured company for people who wanted to send confidential documents across India. Be it housing loans, credit cards or other bill payments, Blue Dart became the chosen courier for those who weighed security the highest," the author explains, in an attempt to simplify Bhaskar's very, very remunerative call.
Palande also profiles Sunil Singhania of Reliance Mutual Fund; Prashant Jain, who has managed ace funds like HDFC Top 200 and HDFC Equity; Chandresh Nigam of Axis Mutual Fund; and S. Naren of ICICI Prudential Mutual Fund, to name just a few.
With India's mutual fund assets growing at 18 per cent per annum over a quarter of a century and shooting from a mere Rs 47,000 in 1993 to nearly around Rs 20 lakh crore now, the book could well serve as a ready reckoner for a small investor keen to hop on to the gravy train.