Mumbai–Prime Minister Narendra Modi on Saturday asserted that India will not resort to restrospective taxation.
"We will not resort to retrospective taxation. We are working towards making taxing regime transparent, stable and predictable," Modi said in his address at the inaugural event of the 'Make in India' week.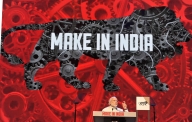 The prime minister also listed a number of initiatives taken by his government to make it easier for doing business in India, along with enabling policy decisions and corrections.
Earlier in the day, Modi inaugurated the Make In India Centre at the Mumbai Metropolitan Region Development Authority Grounds with his Swedish and Finnish counterparts, Kjell Stefan Lofven and Juha Petri Sipila, respectively.
Themed on innovation, design and sustainability, the centre showcases some of the country's most trendsetting products and manufacturing processes before the world for the first time after the global launch of the Make In India initiative 17 months ago, commerce ministry officials said.