Mumbai–Unfolding the red carpet for domestic and foreign investors, Prime Minister Narendra Modi opened the "Make in India Week" here on Saturday, showcased as the largest event of its kind in the country to project it as the preferred global hub for manufacturing.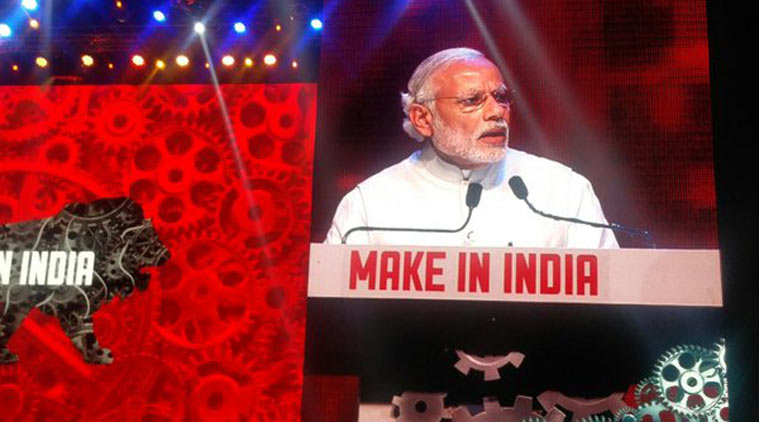 The prime minister also listed a number of initiatives taken by his government to make it easier for doing business in India, along with enabling policy decisions and corrections. "I repeat, we also decided there will be no retrospective taxation," he said at the inaugural.
"Make in India has become the biggest brand India ever created. It has captured the imagination of people, business, institutions, political leaders and media," he said at the National Sports Club of India's indoor stadium that was packed beyond its 5,000 capacity.
Modi said the efforts were showing. "Our foreign direct investment inflow has gone by 48 percent since the day my government came into office," the prime minister said. He also said concerns over intellectual property and bankruptcy laws were also being addressed.
"Almost on a daily basis we are trying to remove the bottlenecks that were affecting business," he said. It was, therefore, not surprising that a host of multilateral institutions have said India will log even better growth that the present 7.5 percent in the coming years, he added.
"In 2014-15, India contributed 12.5 percent to global growth. It's contribution to to the global growth is 68 percent higher than its share of world economy," he said, amid applause from the audience, which included chief ministers, ambassadors, industrialists and policy-makers.
Modi said India was particularly keen on scaling up investments in infrastructure — from roads and railways to digital networks and clean energy. Towards this, he said, interest-free bonds were the next on the agenda.
"Do not wait. Do not relax. You should take advantage of the immense opportunities in India."
The event also saw the Time India award conferred on Tata Steel for best in class manufacturing, Hero MotoCorp for innovator of the year and Yogesh and Rajesh Agarwal of Ajanta Pharma for young maker of the year.
Earlier, Commerce Minister Nirmala Sitharaman said India was ready as a global manufacturing hub.
"The idea of the Make in India plan was to make the environment in the country from the regulated to a facilitator," said Sitharaman, adding this has resulted in a vast improvement in ease of doing business in the country. "This is a moment India is cherishing."
In his maiden Independence Day address on August 15, 2014, the prime minister had said India must become a global manufacturing hub, with "zero defect" in product quality and "zero affect" in its impact on environment. The "Make in India" campaign was launched a month later on September 25.
Earlier, Modi inaugurated the Make In India Centre at the Mumbai Metropolitan Region Development Authority Grounds with his Swedish and Finnish counterparts, Kjell Stefan Lofven and Juha Petri Sipila, respectively. The two dignitaries also addressed the inaugural event.
Themed on innovation, design and sustainability, the centre showcases some of the country's most trendsetting products and manufacturing processes before the world for the first time after the global launch of the Make In India initiative 17 months ago, commerce ministry officials said.
Those showcasing their respective strengths include corporate houses like the Tatas and Reliance groups, four top oil companies, as also institutions like the Indian Space Research Organisation and the Defence Research and Development Organisation.
Make in India Centre includes sector-specific pavilions showcasing 11 focus sectors of the six-day event, 17 state exhibitions and several country pavilions. The area covered is some 220,000 square metres and accommodates 27 halls for 190 companies to show their prowess.
Officials said the Make in India Week is an enabling event to showcase India and attract investment, while also providing opportunities to the states. Also planned are some 20 sector-specific seminars in areas like policy, business climate and intellectual property.
The programmes will see the participation of central and state ministers, chief ministers, senior government officials, top industrialists and businesspeople from India and overseas, and several government and business delegations from abroad.
Government delegations from 49 nations and business teams from 68 countries have converged here.