Mumbai– Kicking off the 'Make In India Week', Prime Minister Narendra Modi on Saturday inaugurated the Make In India Centre at the MMRDA Grounds here along with Swedish Prime Minister Kjell Stefan Lofven and the Prime Minister of Finland, Juha Petri Sipila.
Revolving around the theme of innovation, design and sustainability, the Make In India Centre showcases some of the country's most innovative and trendsetting products and manufacturing processes before the world for the first time after the global launch of the 'Make In India' initiative in September 2014.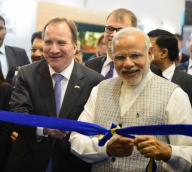 Shortly after the inauguration, Modi accompanied by Lofven and Sipila went around the mega pavilions to view the best examples of India's skill and expertise in innovation, design, sustainability in different sectors ranging from automobiles to defence to space-tech.
This will be followed by a formal launch of the flagship event 'Make In India Week' at the NSCI Grounds later this evening which will promote India as the "preferred manufacturing destination" globally.
During the week (February 13-18), the event will offer immense access and opportunities to connect with Indian and global industry leaders, the central and state governments and other stakeholders.
Enabling this effort would be a series of state investment seminars from across India, around 20 Sector Seminars focusing on key focus areas, group and panel discussions on policies, ease of doing business, foreign direct investment, intellectual property rights, national manufacturing and related topics, several exhibitions and other events.
The week will see the participation of various union and state ministers, chief ministers, senior government officials, top industrialists and businessmen from India and overseas, and several government and business delegations from abroad.