Mumbai–Swedish Prime Minister Stefan Lofven on Saturday said that that Sweden and India are partners in many fields and that his country's interest in India is a long-term one.
"Sweden and India are partners in many fields such as sustainable cities, education and health," Lofven said while addressing the Sweden Country Seminar at the Make in India Week that got underway here on Saturday.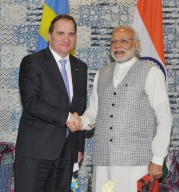 Lofven is being accompanied by a high-level business delegation to attend the mega event.
According to Lofven, there are about 160 Swedish companies operating in India providing direct employment to 160,000 people and indirect employment to over one million people, a statement issued by the CII said.
He also pointed out that the business ties between the two countries go back many decades and that Sweden's interest in India was definitely a long term one.
In a joint statement issued after bilateral discussions he held with Prime Minister Narendra, Lofven also appreciated the initiatives for ease of doing business in India.
"Prime Minister Löfven welcomed the Indian government's efforts to improve the ease of doing business," the statement said.
"The two prime ministers committed to a continued dialogue within the framework of the joint commission to enhance the environment for doing business in their respective countries and further facilitate and promote bilateral economic cooperation."
Modi and Lofven also welcomed the launch of the joint working Group on sustainable urban development under a memorandum of understanding (MoU) signed in 2015 and agreed to encourage their companies and government agencies to support the development of smart cities.
Recognising that that Sweden was one of the leading nations in the world in innovation and that India has a vast pool of talented professionals and was known for its world-class engineering, both sides agreed that this created synergies to be explored by both business and government partnerships, the statement said.
On global issues, both the leaders reiterated the need for urgent reform of the UN Security Council through an expansion in both categories of membership, to make it more effective and representative of the contemporary geo-political realities.
"Prime Minister Lofven expressed the view that it would be inconceivable that an important global actor such as India not be a permanent member of an enlarged Security Council and said that he will seek parliamentary support for this view," the statement said.
The two leaders also recognised the common interest in preventing and countering terrorism and violent extremism and the benefits of a closer dialogue and mutual exchange of information and good practices.
The two prime ministers agreed on the need to tap the full potential of the European Union (EU)-India strategic partnership and welcomed the prospect of resumption of talks on the India-EU Broad-based Trade and Investment Agreement (BTIA).
Lofven also invited Modi to visit Sweden on mutually convenient dates.