Lucknow– They are 'hot' by all standards and they are much in demand. Green chillies from Uttar Pradesh are reportedly flying off the shelves in European supermarkets.
It's not just the succulent mangoes of the state, its green chillies too are now wowing people abroad and exporters here are smiling all the way to the bank.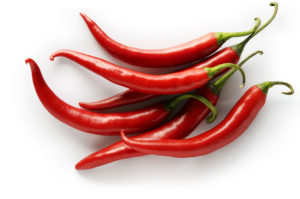 Time was when green chillies from Uttar Pradesh were sent on a "trial basis" to some European and Arab nations. But now exporters are receiving orders from other regions too.
With orders for the chillies pouring in thick and fast, exporters are busy packaging consignments for markets in Germany, the Netherlands, Italy and England.
"We buy these chillies straight from the farmers and then clean, grade and package them for export," Ramanand Barai, managing director of Khushi International, a Mumbai-based export house, told IANS.
Chillies of various varieties — soldier, Gomti, 917 and divya jyoti — are purchased from places like Kursi Road, Dewa and Malihabad, and then packed at Rehman Kheda here before being sent to Amausi airport for shipment. "The daily pick is of about two tonnes," a market-watcher said.
With international, especially European, standards on food quality and safety increasingly becoming stricter, adequate care has been taken to ensure that all parameters, including bio-safety and use of pesticide, are within the prescribed limits.