Bengaluru– US-based off-road and all-terrain vehicles maker Polaris Industries Inc's arm Indian Motorcycle on Wednesday unveiled the latest version of its Indian Scout Sixty luxury motorcycle here for riders of special bikes that vroom at top speed in style.
"The all-new Indian Scout Sixty shares the identical chassis, suspension, brakes of core engine, all mated with a new 60 cubic inch engine," said Polaris India Ltd Managing Director Pankaj Dubey here on the occasion.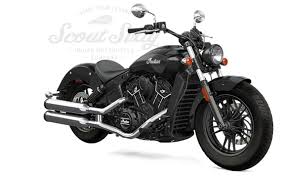 With easy-to-shift 5-speed transmission, the 78 horsepower engine produces a peak torque of 88.8 Newton Metre at 5,800 revolutions per minute.
Priced at Rs 12.21 lakh in Bengaluru, the 999cc new model boasts of the Motorcycle's legendary craftsmanship, reliability and performance of its Indian Scout.
The ex-showroom price for the bikes includes 45 per cent levies, including 33 per cent import duty for shipping them from Iowa state in the US and other central and state taxes.
The Delhi-based Indian subsidiary of Polaris chose this tech hub as the launch pad for unveiling the new model in three colours, as Bengaluru reflects the face of modern India.
"As the hub of India's booming IT industry, this city has a strong economy, a robust consumption pattern and a great market for automobiles. Launching the model here will help us grow in terms of volumes in the fast-growing luxury commuter category," Dubey told reporters at the event.
Observing that the biking landscape of Bengaluru had undergone a sea change over the years with more techies riding international brands, Dubey said even business heads from traditional, non-IT based and service industry professionals have joined the biking revolution in the city.
"Expertly balanced and lightweight, the motorbike has won the hearts of bike aficionados the world over," claimed Dubey.
A seat height of 25.3 inches allows for sure-footed comfort at stops and the low centre of gravity ensures agile cornering, precise balance and overall rider confidence and control.
"A range of accessories, including seats, handlebars and foot peg re-locators allow the motorcycle to be tailored to fit each rider, while additional accessories such as saddlebags, laced front and rear wheels and quick-release windscreens give owners freedom to customize their rides," Dubey pointed out.
The one-year-old Indian subsidiary of Polaris has already introduced Indian Motorcycle's range of models, including Chief Classic, Chief Vintage, Chieftain and Chief Dar Horse during the last 12 months across the country.