Mumbai– Nudging the banks to show more progress in the coming year, Finance Minister Arun Jaitley here on Thursday said they need to make supporting the growth possibilities of the country their top priority.
"Banks in India need to give top priority to support the growth possibilities in the country. The sector has, no doubt, performed very well in the context of a non supportive global economic environment, but it needs to show more progress in the coming year," Jaitley said.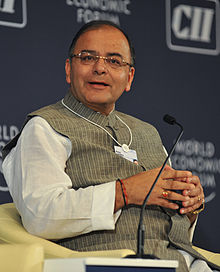 He was speaking at the 69th Annual General meeting (AGM) of Indian Bank Association (IBA).
The banking sector should take it as an opportunity for not only its own growth but also make deeper impact on India's growth story, he said.
The Finance Minister said the government was making all possible efforts to boost economic growth along with social security in an unprecedented manner through the enactments of various enabling legislations and institutional cum administrative reforms.
"The decision making process is being made more efficient and responsive. The world now looks at India a country with a hugely positive outlook," he added.
Jaitley said that Jan Dhan Yojana, a tool of financial inclusion, is being hailed as a path breaking banking effort, not only in India but also by most credible experts at global forums.
"The launch of GST (Goods and Services Tax) has demonstrated to the world, the will of the Indian government to continue with high impact economic reforms in the country. The deeper participation of banks is necessary to ensure that process of socio-economic growth gets a bigger push in both public and private sector," he said.
Financial Services Secretary Anjuli Chib Duggal, who was also present at the IBA event, said the launch of Indian Postal Bank would give a massive fillip to the banking sector.
"Launch of Indian Postal Bank is going to be a game changer for banking sector and the operationalisation of its 1.5 lakh branches would give a massive fillip to the banking and financial system in the country," Duggal said.
Banks need to take advantage of such rapidly changing positive growth opportunities in the country and contribute further to development of nation, she said.
She exhorted the banks to streamline the system of the recruitment of 'Bank Mitras' and consider giving more functional autonomy to the bank branches.
Bank Mitras are representatives of the banks in areas where bank branches are not available and assist people in opening accounts under the Jan Dhan Yojana.