By Vishnu Makhijani
New Delhi– It started off as a stand-alone, then expanded to a 13-book series. Now, says Ashwin Sanghi, one of India's highest-selling authors, his "13 Steps" primers might even go beyond that number. In fact, three of the books are already in the pipeline.
The second book in the series, "13 Steps To Bloody Good Wealth" (Westland/pp 204/Rs 150), was released on Dhanteras, October 28.
How did the series expand?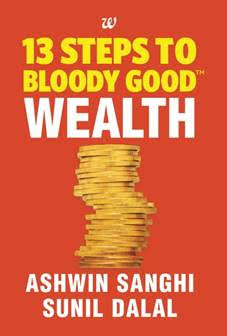 Sanghi says he was "pleasantly surprised" at the enthusiastic response he received from his readers to the first book, "13 Steps to Bloody Good Luck". "One of them, a young man from Pune, wondered why it wasn't possible to demystify life's daunting subjects into 13 Step solutions," Sanghi told IANS in an email interview from Mumbai.
The author has written several bestsellers ("The Rozabal Line", "Chanakya's Chant", "The Krishna Key", "The Sialkot Saga") and a New York Times best-selling crime thriller, "Private India" together with James Paterson,
For example, could one teach students how to study better? Could one teach salary-earners how to improve their financial position? Could one teach new parents how to bring up their children better?
"The young man's e-mail really got me thinking. I figured that it should be possible to invite co-authors who are domain experts to provide the research and content. That content (coupled with my storytelling and editing) could result in immensely readable books," Sanghi said.
Over discussions with his publisher, it was decided that the issues that worry most people are health and wealth. So, it was decided to work on these projects first.
The first book was a solo effort. For the second, he roped in serial entrepreneur Sunil Dalal, with whom he has been friends from their days at Cathedral & John Connon School and St Xavier's College, Mumbai.
"Having observed the process-oriented approach and dogged discipline with which he endeavoured to build his family's fortunes, I suggested that he write a book outlining the 13 Steps to wealth creation. Sunil has an uncanny ability to explain financial matters in simple and uncluttered statements that are devoid of jargon. In that sense, Sunil was a natural choice," Sanghi said.
Dalal, however, will not be partnering with him for future titles because most of these would fall outside his domain expertise. As of now, three co-authors have been signed up for additional titles in the series.
The 13 Steps series is a WIP (work in progress) and it took a year for the second book. If this pattern is followed, it would take another 11 years for the final book to come out. So it would be pretty hard to maintain a complete set.
"You are absolutely right. There are three titles that are being worked on as we speak. It is our aim to release 2-3 titles in the series every year. Our effort will be to demystify concepts that sound complicated for all segments of readers. And BTW (by the way), we won't stop at 13 books!"
Why 13, to get over the superstition associated with the number?
"Thirteen was used more as a tongue-in-cheek idea because in popular perception it is associated with bad luck. When it came to this next book, I thought about it long and hard. We all grew up in a world where it was common to go to the store and buy, say, a dozen apples or a dozen eggs."
"I thought to myself, wouldn't it be great if we could offer something just that little extra over a dozen? It would be like the icing on the cake… just enough to give the reader a broad understanding of the issue with a little more. So the format of this book is precisely that. 13 Steps. Not a dozen. Just a little more," Sanghi said.
What then are the 13 Steps to Bloody Good Wealth?
Define what wealth means to you; Make a plan; Beat inflation; Plan your expenses; Create additional income streams; Harness the power of compounding; Build assets, not expenses; Make the Wealth Trinity your friend; Have an asset allocation strategy; Understand asset classes; Knowledge, focus, patience, review; Leverage good debt; Tax saved is income earned.
Titles that are currently being written or edited are "13 Steps to Bloody Good Health", "13 Steps to Bloody Good Marks" and "13 Steps to Bloody Good Parenting". Titles that are under discussion with potential co-authors include books on marketing, cooking, social media, meditation and writing, Sanghi concluded. (IANS)