New Delhi– Prime Minister Narendra Modi on Monday invited foreign companies to invest in the Indian oil and gas sector, saying the country's economy was expected to grow five-fold by 2040.
"My message to global hydrocarbon companies is come and Make in India. Our commitment is strong and our motto is to replace Red Tape with Red Carpet," Modi said at the inauguration of Petrotech 2016, adding: "We expect growth in manufacturing, transport, civil aviation among other sectors."
"India needs energy which is accessible to the poor," the Prime Minister added.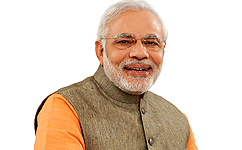 For having affordable energy to attain sustainable growth, the government aims to provide electricity to all by March 2018, piped natural gas connection to 10 million and pipeline network to 30,000 km in 5 years, he said.
"Government is building a new gas pipeline to the least developed eastern region, which has become a catalyst to new jobs," he said.
Modi said the government plans to reduce oil imports by 10 per cent in 2022, and that efforts should be made to move towards a gas-based economy.
Speaking earlier, Petroleum Minister Dharmendra Pradhan said that with India becoming the world's third largest oil consumer, the bi-annual Petrotech international conference will play a key role in preparing a roadmap to meet the country's future energy needs.
The three-day event will see the participation of six thousand delegates from 68 countries, as well as 20 ministerial delegations, he added.
Besides Petrotech 2016, International Energy Forum and International Gas Union Ministerial Conferences are also being organised here simultaneously. (IANS)