By Vishnu Makhijani

New Delhi– In today's digital world, how does one transform a marketing organisation from "art" to "art and science"? By creating a culture that thrives and adds value through data and analytics — the analysis of this data, says the author of a seminal book on the subject.
"I wrote 'The Analytical Marketer' (Harvard Business Review Press/$32 on Amazon/pp 181) to share that experience and to help marketers transform themselves, and their teams, into more analytically-driven and more successful professionals in the digital and social era," the author, Adele Sweetwood, told IANS in an e-mail interview.
"When I led the marketing transformation at (analytics leader) SAS, this type of guide to analytical marketing didn't exist, and I wish it had. As a marketing leader, I often needed guidance on the 'how'– not just the 'why'. My hope is that can I provide readers with a firsthand, practical account of how to create a new marketing culture," said Sweetwood, who has more than three decades of achievements under her belt.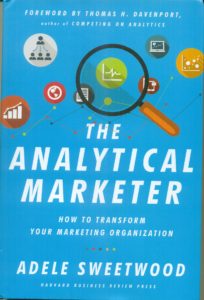 As Thomas H. Davenport, Research Fellow, MIT Initiatve on the Digital Economy (among his many hats), explains in the Foreword, "The real revolution (in marketing) got under way with the internet and the world wide web around the turn of the 21st century… For the first time, companies could extensively measure advertising, promotions and marketing-oriented content — whether and how long recipients viewed them and what they did after."
"Because marketers could know who actually bought their products and services, they could do a much more effective job of qualifying leads. And that meant they could and needed to work more closely with the sales function. In a decade or less, marketing functions could change their entire way of working and destroy old stereotypes," Davenport writes.
To this extent, analytics are today driving big changes, not only in what marketing departments do but in how they are organised, staffed, led and run. Leaders are grappling with issues that range from building an analytically-driven marketing organisation and determining the kinds of structure and talent that are needed to leading interactions with IT, finance, and sales, and creating a unified view of the customer.
At the same time, Sweetwood pointed out that becoming an analytically-driven organisation isn't only about having the right metrics, methodologies or technologies in place.
"It is also about driving the kind of change required to meet and shape customer expectations in the age of analytics, fundamental shifts are required in the marketing organisation itself: specifically, changes in the marketing mind-set, marketing structure, marketing talent, and marketing leadership," she maintained.
What then are the essential skills for the new marketing professional?
"The analytical marketer is curious, confident and customer-focused," Sweetwood said, adding that the key skills are "a knowledge of data management principles and analytical strategies, an understanding of the importance of data quality and data governance and a solid grasp of the value of data in marketing disciplines".
"A modern marketer must understand and utilise the methods in the design of marketing strategies, the monitoring of results and the agility in decision-making," she added.
Obviously, there are no quick-fix solutions but, in conclusion, Sweetwood shares her thoughts "on the three things you can start to do tomorrow (or Monday)" to begin your transformation into an analytical marketing organisation: Evaluate — know where you stand, Nurture relationships — build a guiding coalition of change agents, Embrace change — drive action and celebrate wins.
And, as part of the third thought: "Provide a platform to expose your efforts; partake in some shameless self-promotion."
That's some profound food for thought! (IANS)