Ahmedabad– Union Finance Minister Arun Jaitley on Sunday said that there was a sharp fall in illegal holdings of Indians abroad owing to stringent measures and tax reforms initiated by the Narendra Modi government.
"Today there is panic among people who hold illegal assets abroad. The cumulative efforts of last 65 years would not be even a minuscule percentage of what government has done in two years," he said in response to questions from the audience at a seminar here on Income Disclosure Scheme, 2016, about the prime minister's poll promise to curb black money, given that nothing had happened to illegal assets outside the country in 65 years.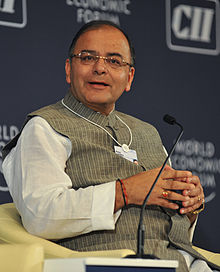 He said the first decision of Narendra Modi on assuming the prime minister's office and also of his cabinet was to constitute a Special Investigation Team on black money according to Supreme Court's directives, something delayed by UPA for three years.
The first action against black money holders were the 600 odd cases of HSBC Bank.
"Assessments of Rs 8,000 crore were completed in those matters while prosecution filed in a couple of hundred cases. After this, the information received through International Consortium of Journalists and Panama Papers are being dealt strictly. These three cases virtually landed in our lap. Then, through the compliance window for black money holders, we got Rs 4,500 crore at the rate of 60 per cent," he claimed.
"There are reports of sizeable dip in Indian holdings abroad in last two years," he said, adding that steps were being taken to ensure availability of real time information about international money transactions and a mechanism was being worked to make creation of black money inside the country virtually impossible.
"G-20 countries, which control 85 per cent of world economy, are working on this on the PM's appeal a year and a half ago at its meet at Brisbane. We have signed an agreement with the US as the first country to do so for real time exchange of information on illegal transactions. Illegal Indian asset holders abroad are in panic," said Jaitley.
He said the government was not being vindictive nor wanted to scare people but to give them the opportunity to come clean.
"However, the government can't let the honest taxpayer to have less privilege than to the not-so-honest one who discloses his income at a later stage. In an earlier version of the disclosure scheme in 1977, the government had allowed less tax for those who declared income at a later stage and this made the regular taxpayer feel cheated," Jaitley said.
He said the government was working out an ideal tax regime through various experiments based on digital mode to ensure least difficulty to the taxpayer. "Today, 94 per cent IT returns are filed digitally. Efforts are on to allow assessees to reply queries by email," he said.
Jaitley said the government's attempt was to ease taxation process and widen tax base to generate maximum income to implement welfare schemes. "With all the ease, the assessee must understand he is paying tax for the country's good," he added.
"In developed countries which provide quality life, tax avoidance and evasion are considered same and we are going to take a cue from them," he said.
Chief Minister Anandiben Patel was happy that first such seminar was being held in Gujarat. "Gujaratis are global traders. The state's share in income tax in last fiscal year was Rs 34,865 crore with 30 lakh tax payers and 1.57 crore PAN card holders," she said.
Union Revenue Secretary Hasmukh Adhia explained the disclosure scheme. The president of Institute of Chartered Accountants, a partner in awareness campaign for the scheme, M Devraj Reddy, and Ficci vice president Pankaj Patel were present.