By Biswajit Choudhury
New Delhi– As the key figure in the balance of power between the government and the Reserve Bank of India, former RBI Governor Y.V. Reddy once contemplated resignation, and had to even offer an unconditional apology to the minister, his autobiography reveals.
In 'Advice and Dissent: My Life in Public Service', being released on Tuesday, Reddy, who was RBI Governor between September 2003 and September 2008, describes his differences of opinion with then Finance Minister P. Chidambaram. These led him to also think of putting in his papers.
The issue concerned opening the banking system to foreign ownership, which came to a head with Chidambaram in 2008.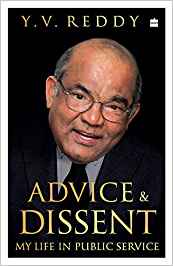 Reddy narrated his meeting where the Finance Minister told him: "Governor, this is a national commitment made to global financial community. How do we justify reversal of such a policy? Is it just because there is a change in the incumbency of the government? Do we review our commitments every time a governor or the RBI changes?"
Reddy, according to the book, told him that "it has serious irreversible consequences. I believe it is better to go back on our comitment at this stage, in national interest."
"But I believe that it is in our national interest," Chidambaram was quoted as telling the RBI Governor.
Reddy writes that he confided his troubles to then Economic Affairs Secretary Rakesh Mohan.
"'Rakesh,' I told him, 'it is better I leave this job. I believe that the issue is very critical to our national interest. I think opening up of foreign banks should not be done at this stage at all. Still, if the government feels that this has to be done, it has to be done. But I will not be able to put my heart in it'," Reddy said.
"So, better I quietly leave the job," Reddy added.
He writes that despite Chidambaram's unwillingness to relieve him as Governor, "I felt that there was a growing distance between us as months passed by. His (Chidambaram) image as a reformer pushing for double-digit growth was, in his view, being dented by my caution to the extent of resisting implementation of some of his policies," Reddy wrote.
"At one stage, he said that he was cancelling his foreign tour because he could not face them with nothing to report on reform. His frustration was confirmed later, I think in early 2008," Reddy wrote.
When he met the minister, Chidambaram said the RBI was not adequately reciprocating by progressing with reforms. "I expressed my unconditional apology to him and conveyed that I would keep in mind the issue of being supportive," Reddy said, describing how the matter ended.
However, on the overall experience of working as RBI Governor "closely" with Chidambaram for over four years, Reddy writes: "Most of our tensions could be described as constructive or as discord that ultimately gave rise to better ideas or outcomes."
Another contentious issue was that of farm-loan waivers, that continues to be controversial.
"I opposed the proposal made in February 2008 to write off loans to farmers amounting to Rs 60,000 crore. I argued my case before the Finance Minister, and at one stage before the Prime Minister accompanied by the Finance Minister. Economic logic including preservation of credit culture was in favour of RBI's position," Reddy says.
However, "I could see the government was acting out of broader concern for the welfare of farmers. I suggested that the government should pay the money to the banks on behalf of the farmers."
Thus, a differnt aspect of the situation dawned on Reddy.
"I believe that as governor, I could advance arguments from the point of view of money and credit, but I had no legitimacy to question the judgement of the government on social order," he said.
In fact, the autobiography sets out Reddy's unique perspective as a central banker on the government-RBI relationship.
"It is hard to find the government's version of dealing with the central banks. Since I worked in the government also, and dealt with the RBI, a part of the story relates to this," he writes in the introduction.
Reddy, who famously described the RBI as "totally free, within the limits set by the government", has served as the Union Finance Secretary and was the Chairman of the latest 14th Finance Commission in 2013-14.
Farm loan waivers have only added to the gigantic non-performing assets (NPAs), or bad loans, of banks. Reddy has emphasised elsewhere that there is no "political economy consensus" on tackling the mounting problem of bad loans of banks, which cannot be resolved by their simple recapitalisation.
(The NPAs of state-run banks at the end of March 2016 were Rs 5.02 lakh crore, according to an answer given by Minister of State for Finance Santosh Kumar Gangwar in the Lok Sabha. Care Ratings said these NPAs went up to Rs 6.97 lakh crore by December 2016).
Speaking of the government-RBI relationship in a recent short history of the RBI called 'Dialogue of the Deaf', economic journalist T.C.A. Srinivasa Raghavan says the balance of power has been in favour of the government because monetary policy has had to be subservient to fiscal policy in independent India. (IANS)